US President Donald Trump and other male members of his administration took part in a traditional sword dance during their visit to Saudi Arabia over the weekend. The ceremonial dance was a part of the extravagant welcome for Trump, his family and senior US officials during his first foreign trip as president.
The ceremonial dance, known as the Ardah, involves dance, drumming and chanting poetry with two lines of men standing shoulder to shoulder, dancing while carrying light swords.
The dance signifies the start and end of significant occasions such as religious holidays, weddings, births or other national or local events.
Trump along with Secretary of State Rex Tillerson and Commerce Secretary Wilbur Ross were spotted smiling, wielding swords and bobbing awkwardly as they joined in the dance outside the King Abdulaziz Historical Center.
Twitter, expectedly, wasted no time in poking fun at the president and his fellow officials' dance skills.
While some social media users compared Trump's dance skills to an awkward uncle dancing uncomfortably at a wedding, others pointed out the timing of the dance after signing a $110bn defense deal with Saudi Arabia.
Many even compared his moves to that of his predecessors, former presidents Barack Obama and George W. Bush.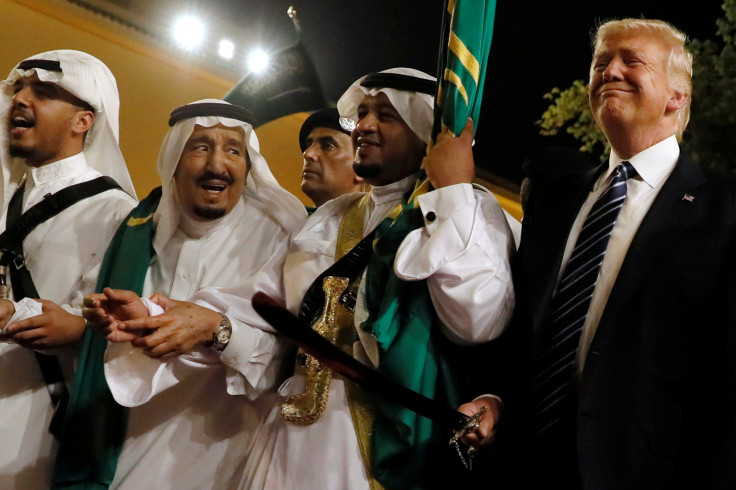 "For $100bn, Trump will perform a traditional folk dance. For $200bn he'll put on a tutu and perform Swan Lake", Twitter satirist and social commentator Karl Sharro wrote.
"Among his many character flaws, the man has no rhythm," one Twitter user wrote. Another tweeted: "Will he twerk for a trillion?"