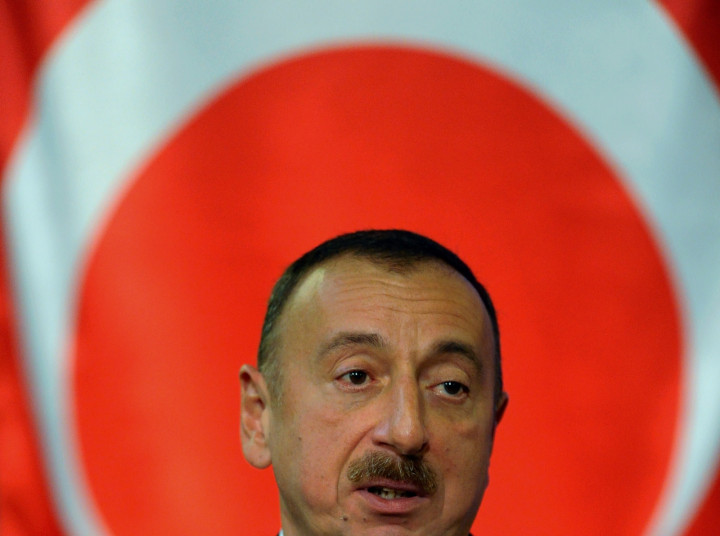 The latest flare-up in the disputed enclave of Nagorno-Karabakh has highlighted an urgent need for an international solution to the mostly-forgotten conflict between Armenia and Azerbaijan.
The Azerbaijan capital Baku said it has set up a no-fly zone over the breakaway region after it downed an Armenian military helicopter. Armenia described the incident as an "unprecedented provocation".
Azerbaijan claimed that two MI-24 aircrafts attacked Azeri positions, which returned fire, bringing down one. The Azerbaijani Defence Ministry added: "According to preliminary information, three servicemen of Armenian military forces onboard were killed."
It is the first time in 20 years that a military plane has been shot down in the 4,400-km sq territory, which is controlled by ethnic Armenian forces. Earlier in August, the worst clashes in the disputed region, which is within oil-rich Azerbaijan's current borders left at least 15 soldiers dead.
Human rights activists fear that if the tensions escalate into an all-out war, that would cause an unprecedented humanitarian catastrophe.
"Armenia and Azerbaijan will have to deal with an additional influx of displaced people, which will be a huge problem because both have hundreds of thousands of those as a result of the conflict in the 1990s," Levan Asatiani, a campaigner for Amnesty International, told IBTimes UK.
According to Amnesty's estimates, 600,000 Azerbaijani who lived in the Nagorno region have been internally displaced in the mainland for more than a decade as a result of the occupation by Armenian forces.
Although the Baku government provided housing for these displaced people, they still suffer from high rates of poverty compared to the rest of the population, Asatiani said. "They are highly dependent on subsidies, they face isolation, poverty and they are not integrated in the society."
Similarly, 360,000 Armenians left Azerbaijan as a result of the conflict.
Crackdown on human rights
The neighbouring Caucasian countries fought a fully-fledged war over the enclave after the collapse of the USSR in the early 1990s that has resulted in at least 30,000 deaths over six years. A ceasefire brokered by Russia in 1994 put an end to hostilities but international attempts to revive the peace process have failed since then.
Nagorno-Karabakh has maintained de facto autonomy. Azerbaijan claims the land as its own, and considers it an occupied territory, stressing that the self-declared government lacks international recognition.
Its authoritarian president, Ilham Aliyev, has been criticised by human rights organisations for his iron fist on freedom of expression and assembly in the country. A leaked US diplomatic cable, revealed by Wikileaks, showed American officials comparing him to a mafia boss. There have been allegations, denied by Aliyev, that money has made its way from the state oil company to an account owned by him.
"The human rights situation in Azerbaijan is dire," said Asatiani. "Authorities systematically violate right to expression, association and assembly in the country, targeting the civil society, banning activism and violently displacing peaceful protests."
Strategy of tension
Aliyev's critics claim he is using high diplomatic tensions with Armenia, which he called a "state of war" on Twitter, as a cover to target and lock up political activists.
Amnesty says there are 21 prisoners of conscience in Azerbaijan. One of the most recent detainees is Leyla Yunus, Azerbaijan's best known human rights advocate. She was detained along with her husband on several charges, but primarily "treason in favour of Armenia".
"The argument of Azerbaijan's general prosecutor is that Leyla collaborated in a peace and reconciliation project with Armenian NGOs. It is outrageous that Azerbaijani government is treating the peace and reconciliation project as treason," Asatiani said.
The connection between tactics of war and a crackdown on human rights was particularly evident in August, when dozens of critical political activists were arrested and subjected to abuse in prison.
Back then, Asatiani told IBTimes UK that he had heard reports of young political activists having drugs planted on them by police, being arrested and handed sentences of up to ten years in prison after having confessions beaten out of them. Others were locked up after making supposedly critical statements on Facebook.
"We can speculate on a similar connection between the current escalation of the conflict and an ongoing repression in the country," the campaigner said.
Peace talks between the two countries, mediated by the OSCE-appointed Minsk Group of mediators and co-chaired by France, Russia, and the United States, are currently stalled.