Azerbaijan said they've established a no-fly zone over the disputed Armenian enclave of Nagorno-Karabakh, after they shot down a military helicopter heightening tensions between the two Caucasian neighbours.
"The Republic of Azerbaijan has declared its airspace closed over the occupied territories," Baku's foreign ministry said referring to the breakaway region.
The move came after Azeri troops shot down a military helicopter of the ethnic Armenian forces controlling the 4,400-km sq territory, killing all three crew members.
Baku claimed that two MI-24 aircrafts attacked Azeri positions, which returned fire, downing one.
Yerevan denied the accusation, saying the helicopters were attacked when on a training flight. The government described the incident as a "criminal provocation" and vowed to retaliate.
"Consequences for this unprecedented aggravation of the situation will be very painful for the Azeri side," said Armenian Defense Minister Artsrun Hovhannisyan.
A video purportedly showing the downing was posted on YouTube.
The US denounced the incident: "Today's events are yet another reminder of the need to redouble efforts on a peaceful resolution to the Nagorno-Karabakh conflict, including reducing tensions and respecting the cease-fire," said State Department spokeswoman Jen Psaki.
Nagorno-Karabakh has long been the source of frictions and violence between Armenia and Azerbaijan.
More than 30,000 people died as the two countries fought a full-fledged war over the enclave - located within Azerbaijan's current territory - after the collapse of the USSR in the early 1990s.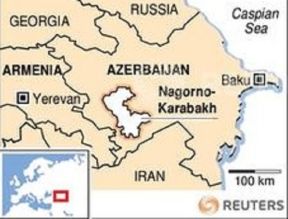 A ceasefire brokered by Russia in 1994 put an end to hostilities but international attempts to revive the peace process have failed since then.
The region maintains a de facto autonomy under the control of Armenian ethic forces, loyal to Yerevan.
However Azerbaijan keeps claiming the land as its own, and considers it an occupied territory, stressing that the self-declared government lacks international recognition.
In August, at least 15 soldiers were killed there in the worst clashes in years.