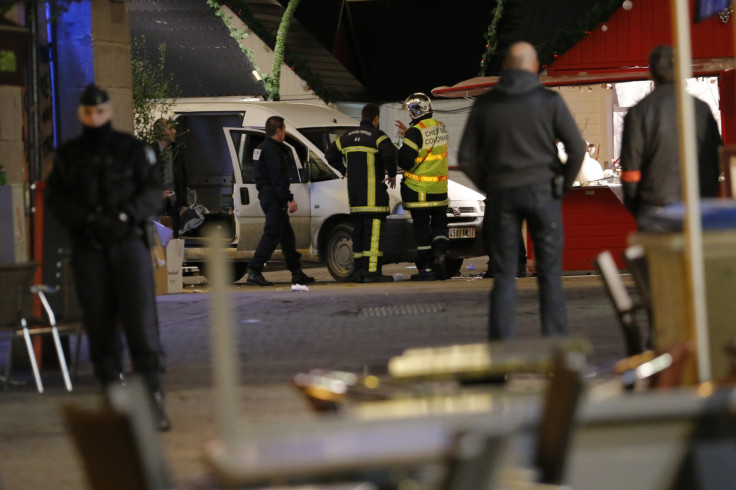 French authorities have pleaded for calm and played down the threat of Islamist violence after a series of attacks across the country left dozens injured.
Prosecutors denied terrorism was involved in two incidents involving drivers ramming their vehicles into crowds.
In the latest assault, 11 people were injured after a 37-year-old man crashed his van into a crowded Christmas market in Nantes, western France. The attacker subsequently stabbed himself.
Local prosecutor Brigitte Lamy said that, although the act was deliberate, it was an isolated incident and "not a terrorist act".
She denied reports that the attacker shouted "Allahu Akbar" (God is great) as witnesses said.
That phrase had been shouted by a 40-year-old man of north African origin, who injured another 13 people by ploughing a black Renault Clio into pedestrians at several different locations in the eastern city of Dijon a day earlier.
Despite the Islamic reference, the local prosecutor in Dijon, Marie-Christine Tarare, has also attempted to reassure the public by saying that "It was absolutely not an act of terrorism".
"We have not found a link to the Islamic State [group], he [the attacker] didn't even have the internet," she told a press conference.
Tarare added that the attacker shouted Allahu Akbar "to give himself courage" rather than claim a religious motive.
Authorities described both the Dijon and Nantes incidents as the work of mentally unbalanced people.
Prime Minister Manuel Valls called for calm and vigilance, saying the justice system would shed light on both attacks.
However opposition leaders claimed the government is in denial over the Islamist threat in the country.
A day before the Dijon rampage, a knife-wielding man also shouting "Allahu Akbar" stabbed three officers in a police station in the central town of Joue-les-Tours.
The 20-year-old attacker, a Muslim convert identified as Bertrand Nzohabonayo, was killed after slashing the throat of an officer and wounding two others. The incident is being investigated by anti-terror police.
Far-right Front National (FN) party leader Marine Le Pen said the government was "doing the maximum to minimise the facts."
"He [the Dijon attacker] started saying Allahu Akbar and that has nothing to do with religion," she quipped.
France, which is home to Europe's largest Muslim population, has been directly touched by the rise of Islamist groups in the Middle East, with the Islamic State (Isis) and other terrorist organisations repeatedly calling for attacks against the country.
In 2012, four Jews - including three children - and three soldiers were shot dead in Toulouse by 23-year-old radical Mohamed Merah.
Earlier in 2014, Mehdi Nemmouche, a 29-year-old of Franco-Algerian origin, shot four people dead at the Brussels Jewish Museum in Belgium.
About 1,000 French citizens are believed to have travelled to Syria to join jihadist militias.