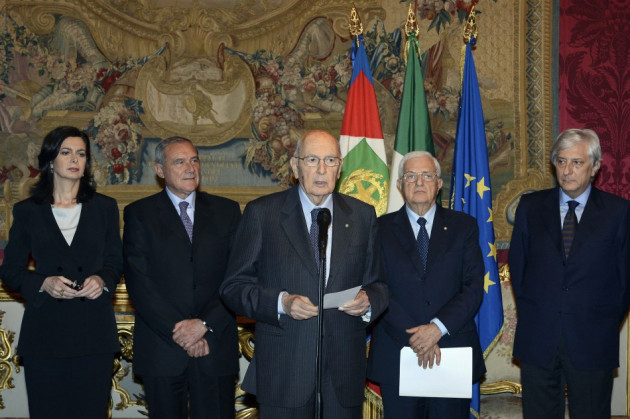 Italian stocks rose and government bond yields fell sharply Monday after an historic presidential election paved the way towards an end to two months of political gridlock and the formation of a new coalition leadership for Europe's third-largest economy.
Giorgio Napolitano became the first Italian president in the history of the Republic to be re-elected over the weekend, giving the 87-year old a strong mandate to ask one of several players in Italian parliament to form a new government nearly two months after indecisive elections plunged the country into political crisis. Investors hope the president's new mandate will encourage political rivals to agree to a broad coalition government that will immediately tackle Italy's myriad fiscal and structural challenges amid the deepening recession.
"President Napolitano strongly supports the approval of pro-growth structural reforms needed to resume growth and enhance job creation," wrote Barclays strategists Fabio Fois and Giuseppe Maraffino in a client note published Monday. "We would expect him to supervise/push political parties to work in that direction. In particular, we think President Napolitano is likely to ask political parties to start developing the reform agenda presented by a committee of "wise men" appointed a few weeks ago, which includes suggestions on how to reform the electoral law, improve tax efficiency, increase labour market flexibility and improve SME credit access."
Italy's benchmark stock index, the FTSE MIB, rose more than 1.4 percent in early trading in Milan to trade at 15980, the highest level since early March. Bond futures lifted 75 ticks to 113.75 while benchmark 10-year bond yields fell 13 basis points to 4.09 percent. The extra yield, or spread, investors demand to hold Italian government bonds instead of AAA-rated German bunds fell 14 basis points to 2.84 percent. That spread reached a peak of 5.75 percent late last year. Two-year bond yields fell to a record low 1.267 percent.
Napolitano is expected to be sworn-in later this afternoon in Rome and could begin directing the formation of a new government as early as Tuesday. Media reports suggest former prime minister Giuliano Amato and deputy PD party leader Enrico Letta are the front-runners to form a new leadership after the weekend resignation of Pier Luigi Bersani, the man who won the most votes in the late February election.
Bersani stepped down after failing to win support from his party for two separate presidential candidates.
In its most recent forecast, the International Monetary Fund said Italy's economy will likely slide deeper into recession this year before notching a modest 0.5 percent expansion in 2014. The Bank of Italy said last week it expects a contraction in at least the first quarter of the year, but felt the rate of slippage had slowed from the previous year and the 0.9 percent shrinkage recorded in the final three months of 2012.
However, with the country staggering under a debt load that will reach 130.4 percent of GDP this year and youth unemployment at a record high 38.7 percent, urgent structural and political reforms are needed in order to avoid drifting further away from the centre of the Eurozone's economic strength.
"The scar left by the recession is likely to have damaged the supply side of the Italian economy, thus further lowering the pace of potential growth to 0.5 percent or so," wrote Morgan Stanley economist Daniele Antonucci. "This is an important point because, with no macroeconomic levers (being part of the Eurozone) and fiscal policy likely to remain tight under most scenarios, the only viable alternative is to boost long-term growth and resilience via microeconomic reforms."