Narendra Modi UK visit: Film director Leslee Udwin rallies protesters outside Wembley Stadium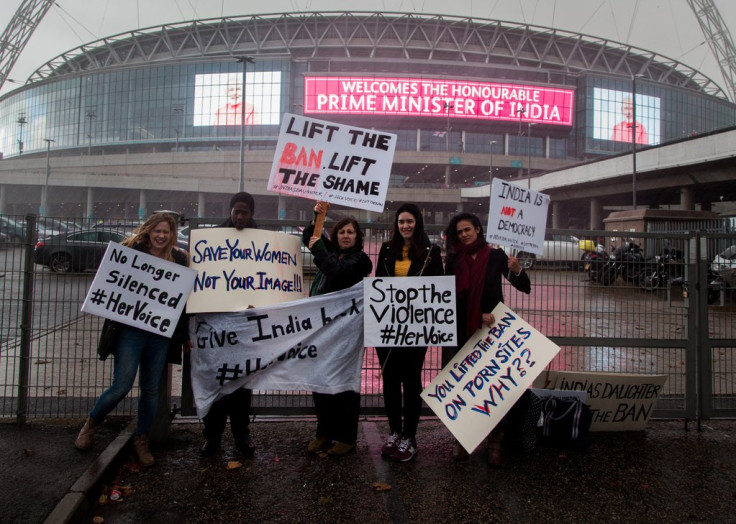 As Prime Minister Narendra Modi prepared to address the Indian diaspora at Wembley Stadium on Friday (13 November), protesters gathered outside to raise their voices against the controversial leader. Film director Leslee Udwin was at the forefront of the protests, calling on the Indian government to overturn the ban on her documentary about a gang rape that took place in India.
India's Daughter followed the story of "Nirbhaya", a 23-year-old who was gang raped and murdered in New Delhi in December 2012. Thousands of protesters took to the streets following the incident, calling on the Indian government to take urgent action on crimes against women. Udwin's documentary highlighted the protesters and featured interviews with the rape victim's family and friends, alongside a controversial interview with one of the rapists.
Speaking to IBTimes UK outside Wembley Stadium, she said: "I'm protesting here today to keep the spirit alive of the protesters who were the most admirable, extraordinary, forward-looking people. Sadly they've been silenced since then, but I am here in that spirit to keep alive the issue of violence against women and girls."
Udwin's film was meant to be screened across the world on 8 March, International Women's Day, however, Delhi authorities banned the film from being screened. Authorities said the ban was related to her interview with the rapist while he was in jail and questioned how she managed to get permission to conduct the interview.
Other critics of Udwin's film have expressed disapproval over the fact that the film-maker provided a platform for the rapist to voice his feelings, with many claiming Udwin "sensationalised" his lack of remorse over his actions. The controversy sparked a debate over freedom of expression and whether the airing of the documentary would be a positive or negative thing for India.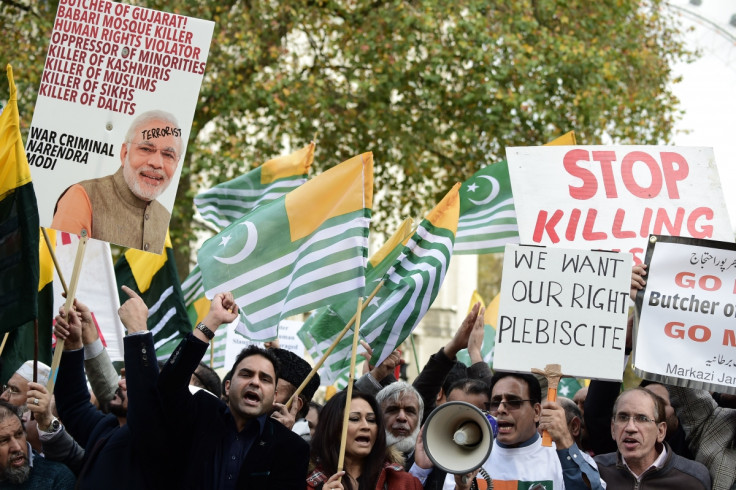 However, Udwin blamed a "post-colonial" mindset for the ban. She said: "[The documentary was banned] partly because there is a post-colonial reflex, chip on the shoulder that labels me a 'gori' who is interfering in their affairs. Now that is utterly pathetic, it's childish, it's misguided and stupid."
Udwin is a rape survivor herself and said she is a "global citizen" who has every right to speak out against the abuse of women around the world. In her quest to do so, she partnered with UK-based charity Snehalaya, which fights for the rights of women and girls in India, to rally protesters outside the UK Welcomes Modi event at Wembley Stadium. The women were joined by the Awaaz Network and representatives from the Sikh Lives Matter campaign.
Many of the same campaign groups were also a part of protests against Modi outside Downing Street on Thursday (12 November). Hundreds of people gathered to call on Prime Minister David Cameron to question human rights abuses under Modi's leadership.
Udwin said: "If Cameron does not call Modi on his human rights abuses – and trampling of freedom of expression is indeed that – Cameron will have failed the British people who do uphold true freedom of speech and true democracy."
© Copyright IBTimes 2023. All rights reserved.