NASA has restarted its human spaceflight programme as the US space research agency looks to end its dependence on Russia for the purpose amid growing tensions between the countries, tasking Boeing and Elon Musk's SpaceX with transporting astronauts to and from the international space station.
During a press conference at Kennedy Space Centre in Florida, the space agency's administrator Charles Bolden announced the winners of the prized NASA contracts for the commercial crew program, awarding them $6.8bn (£4.2bn, €5.3bn) to set up a space transit system.
Boeing were given $4.2bn and SpaceX were given $2.6bn, beating out Sierra Nevada Corp and Amazon founder Jeff Bezos' Blue Origin program.
Boeing and SpaceX will transport US crews to and from the space station using their CST-100 and Crew Dragon spacecraft, respectively. By 2017, NASA will stop its sole reliance on Russia.
"Today we are one step closer to launching our astronauts from U.S. soil on American spacecraft and ending the nation's sole reliance on Russia by 2017," NASA Administrator Charlie Bolden said at the agency's Kennedy Space Center in Florida.
"Turning over low-Earth orbit transportation to private industry will also allow NASA to focus on an even more ambitious mission – sending humans to Mars."
The contracts include at least one crewed flight test per company with at least one NASA astronaut aboard to verify the fully integrated rocket and spacecraft system can launch, manoeuvre in orbit, and dock to the space station, as well as validate all its systems perform as expected, according to the agency.
Elon Musk, the man behind SpaceX, tweeted: "Deeply honored and appreciative of the trust that Nasa has placed in SpaceX for the future of human spaceflight"
Deeply honored and appreciative of the trust that @NASA has placed in @SpaceX for the future of human spaceflight

— Elon Musk (@elonmusk) September 16, 2014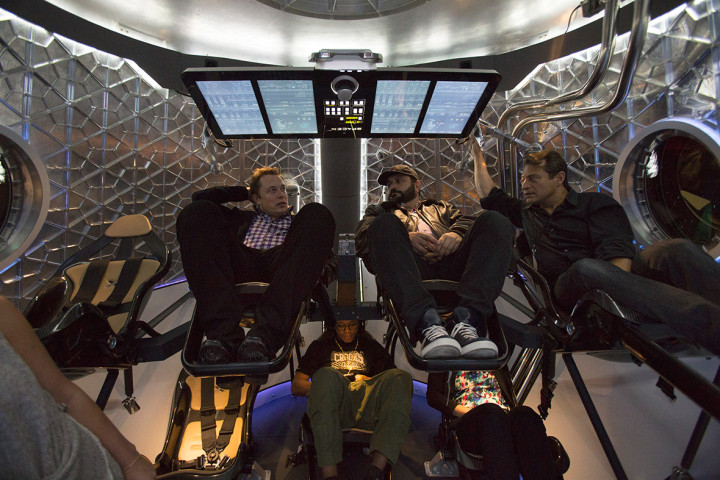 NASA's Space Shuttle program was closed in 2011 following questions over funding, and the organisation refocused on exploring deep space.
US astronauts have since been paying for seats aboard Russian Soyuz spacecraft, which can cost as much as $70m a seat. The organisation typically buys six seats per year at a total cost of an estimated $420m.
The commercial crew program is the sequel to the successful cargo delivery effort that has been running for two years under a NASA contract. These initatives to involve private companies are designed to free up the space agency so that it can focus on more ambitious, far reaching missions such as Mars and asteroid research.
The contracts with Boeing and Space X will involve an offer of "additional capabilities" including development initiatives and certification programs – they may even work as space taxis.
SpaceX is building a manned version of its robotic Dragon space capsule that is set to launch on its own Falcon 9 rockets. It debuted the Dragon vehicle, which can hold seven people, in May.
The SpaceX Dragon capsule made its first space station trip, with astronaut supplies, in 2012. This is version 2.
And Boeing is developing its own seven-seater capsule called the Commercial Space Transportation; it is designed to launch on expendable Atlas 5 rockets.
Blue Origins, which lost out on the NASA contract, said it will continue working on its own, unfunded by the government. Its funder, Amazon.com founder and CEO Jeff Bezos, has given few details since.