Nasa satellite images have shown the huge expansion of China's solar power plant in the Gobi Desert.
The images from Nasa's Advanced Land Imager (ALI) on the Earth Observing-1 satellite were taken in 2012 and 2015 – showing how the plant has tripled in size over the past three years.
The Gobi Desert, in north-western Gansu Province is ripe for development of solar energy, with sunlight and land both abundant resources.
Construction began on China's first large-scale solar power station in 2009 and in 2014 it was believed to be producing 5.2 gigawatts of energy. It is thought China's National Energy Administration is aiming to increase the capacity by an additional 0.5 gigawatts by 2015.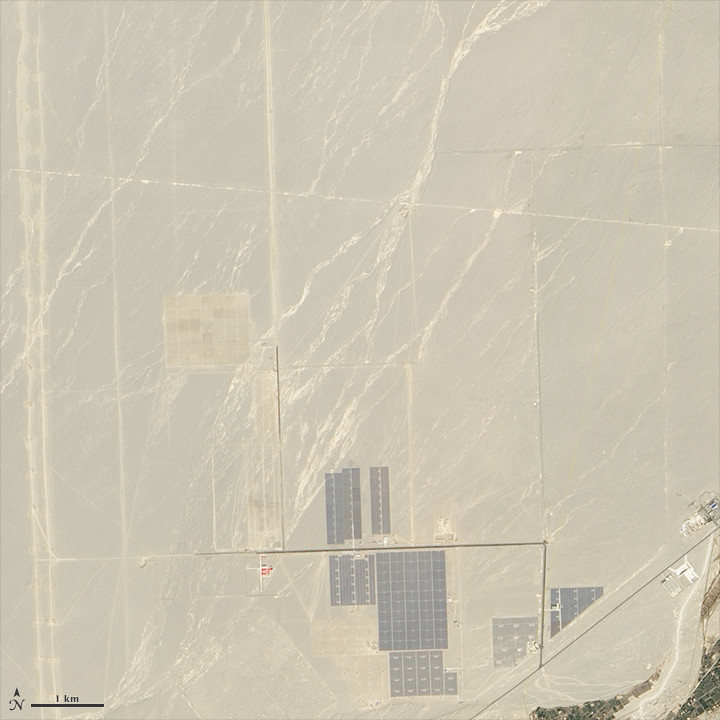 China is aiming to curb its emissions within 15 years and plans to increase its use of non-fossil fuel energy to 20% by 2030, with solar power one of the key drivers.
Nasa said in a statement: "Across the entire country, total installed capacity in 2014 was 28.05 gigawatts, according to PV Magazine. Of that, more than 10 gigawatts were newly added capacity in 2014, which led to a 200% increase in the kilowatt-hours of electricity produced via solar over the year before.
"And already in the first quarter of 2015, China is reported to have installed more than five gigawatts of new capacity."
According to Reuters, Chinese Premier Li Keqiang pledged to curb emissions at a meeting with French President Francois Hollande, formalising the country's commitment to help create a UN climate deal in 2015.
He said: "China's carbon dioxide emission will peak by around 2030 and China will work hard to achieve the target at an even earlier date."