Ukip leader Nigel Farage has been attacked by a group of protesters in Kent, which saw him hit over the head with a placard that read "Nasty Little Nigel".
Farage, the Ukip MEP for the South East, was faced with a furious mob outside the Walpole Bay Hotel in Cliftonville.
Around 40 demonstrators shouted at him and one man dangled a purple tambourine in his face, as Farage was quickly ushered into a building by police.
Ian Driver, Thanet District Council Green councillor, attended the protest. He told the Kent Online: "There were 101 reasons to be there today - Ukip's appalling opinions on animal welfare and their plans to bring back hunting are old-fashioned positions to hold.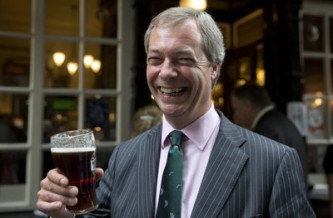 "Ukip are trying to stir up divisions between people and I think Thanet deserves better than their hatred, divisiveness and scapegoating."
Farage later said the protests "wouldn't stop" him, adding that the protesters had "intent to physically hurt" him.
Farage's public appearances have frequently attracted protesters. In May 2013, he was locked in an Edinburgh pub over fears for his safety, after an anti-racism protest outside against Farage turned violent.
Nor is it the first time a member of Ukip has been involved in physical spat. Godfrey Bloom, the Yorkshire and Humber MEP who had the whip removed in September 2013, hit a reporter over the head with a Ukip brochure. This was shortly after he branded a group of Ukip women "sluts" for not cleaning behind their fridges.
Bloom was confronted by Channel 4 News's Michael Crick, who asked why the UKIP conference brochure, which bears the slogan "changing the face of politics" had no black faces on the cover.
Enraged, Bloom retaliated: "What a racist comment. How dare you, thats an appalling thing to say, you're picking people out for the colour of their skin? You disgust me."
He then snatched the programme out of the reporter's hand and hit him over the head with it. Fortunately, the incident was caught on camera.