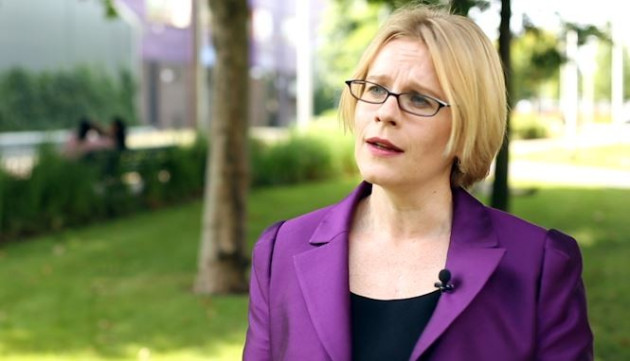 The Financial Ombudsman Service's chief says women are being prevented from moving into senior level financial services positions because of the incumbent culture and recruitment policies rather than because of childcare related issues.
Speaking exclusively to IBTimes UK in a video interview, Natalie Ceeney said that there is a still a long way to go in changing the financial services culture, as well as the perceptions as to why there are not proportionately equal amounts of women in the industry.
"The most frequent issue I hear about why women are being prevented from progressing up the career ladder is about childcare policies. But while that is part of the problem, letting women come back to work after having kids is not the whole solution," said Ceeney.
"I think there are two issues here. The first issue is- do women want to be part of the management club?
"If you're a middle management woman that looks up at an entirely male management board, and their idea to go to an away day is to go to a golf club or, even worse, to celebrate success at a lap dancing club- is that a 'club' you want to be part of?"
Ceeney adds that recruitment methods also need to dramatically change.
"The second issues is- how do we enable women to be their best? Any marketing department knows is that you need different moulds of marketing to reach different audiences and yet we don't apply the same to our workforce," said Ceeney.
"For instance, men are more likely than women to crow about their achievements. So you should, overall, look at people's achievements and successes rather than expecting them to brag to secure a job."
Breaking the Glass Ceiling
Ceeney became FoS' CEO in 2010 from the National Archives, where she became one of the youngest chief executives in the UK, at the age of 34.
Her role involves regular meetings with the CEOs of all the major banks and insurers, regulators and key organisations from across the financial spectrum.
As well as sharing the Ombudsman's insights into what's driving dissatisfaction with financial services, she highlights where firms are getting things wrong and what can be done to restore faith in the sector as a whole.
However, despite her achievements, Ceeney said she was surprised to encounter some of the attitudes towards women in senior positions in the financial services industry.
"I hate the box ticking exercise and I would hate to be put in a position where I got the job because I was female, rather than being the best candidate. But why does talking about female representation matter?" said Ceeney.
"Well, there is a lot of scientific evidence that the best teams have a mixed gender representation. Importantly, women account for half the population.
"Having senior management making the jobs inaccessible to half the population cannot be the best way to harness talent."
On her appointment alone, she was dismayed by comments that ranged from "I can't believe they've appointed someone with limited financial experience" to "well she's better looking than her predecessor" and "nice legs"
When asked at a recent event on women and diversity in the workplace, Ceeney said that despite a wealth of women out there, with the capability to lead large organisations, "too often I find myself as one of the only women at key industry events who aren't serving drinks."
In the three years since Ceeney became chief ombudsman, FoS has more than doubled its staff to help deal with financial scandals, such as payment protection insurance mis-selling, and with one million new cases and 4.5 million enquiries.
For the full interview, don't forget to check out IBTimes TV in August for a special series on Breaking the Glass Ceiling and the latest developments at the Financial Ombudsman.