The renowned Nathan's Famous Hot Dog Eating Contest 2016 witnesses the 'greatest competitive eaters on earth' – those who compete to see who can eat the most hot dogs.
Taking place on the corner of Surf and Stilwell Avenues, at Coney Island in Brooklyn, the international hot-dog eating contest began in 1916 – 2016 is being marked as its 100-year anniversary.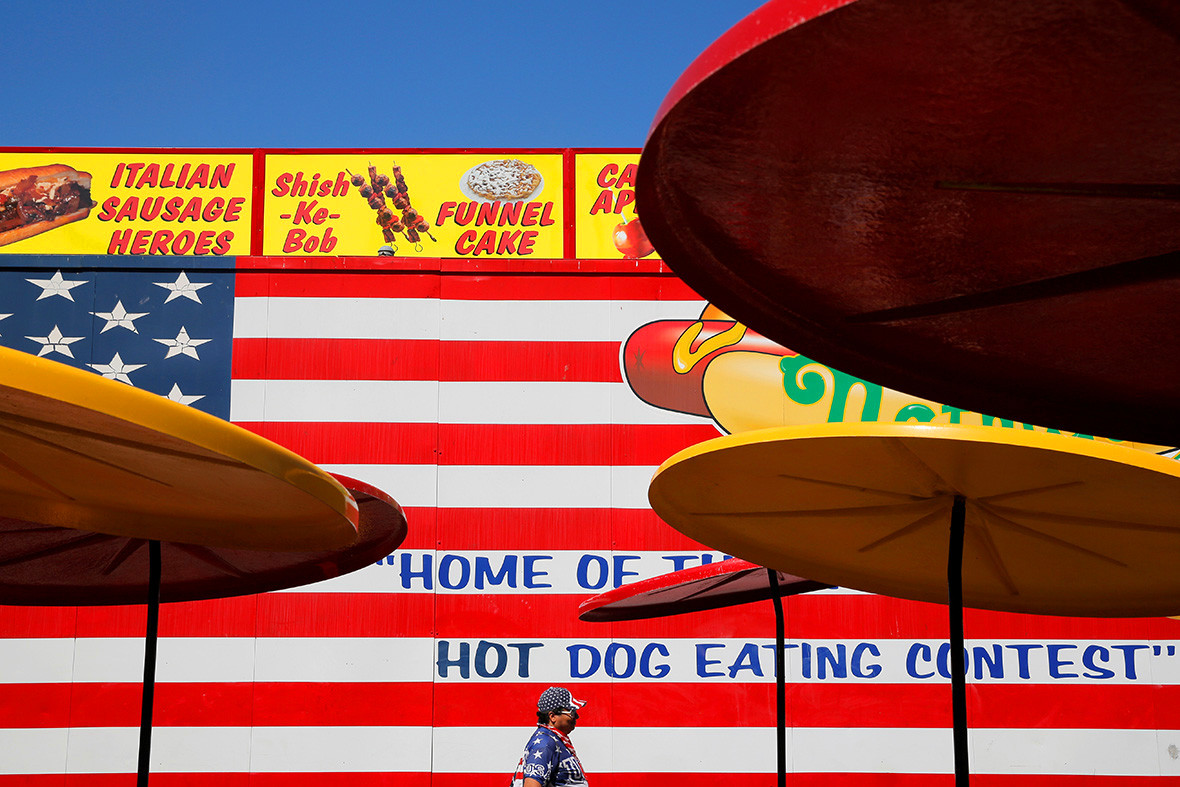 However, in order to compete in the Coney Island final, contestants must undergo various qualifying stages, to see if they are up to the challenge. These rounds take place across America, in areas such as St. Louis, Houston, Las Vegas, New York and Washington. On 1 July, finalists must undergo an official weigh-in prior to the final event.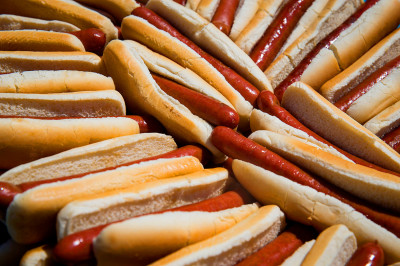 During the weigh-in, the organisation which sanctions professional competitive eating's – Major League Eating (MLE) – Chairman George Shea, who also oversees the hot dog eating contest, introduced the top contenders.
"They say that competitive eating is the battlefield upon which God and Lucifer waged war for men's souls, my friends, and they are right," he said. "For this is a battle of the ages, a battle of the titans, that being that comes to Earth only once in only one location and that is here in the great borough of Brooklyn – for only one purpose and that is the Nathan's Famous 4th of July Hot Dog Eating championship. So it is and so it always shall be, are you ready to meet the eaters?"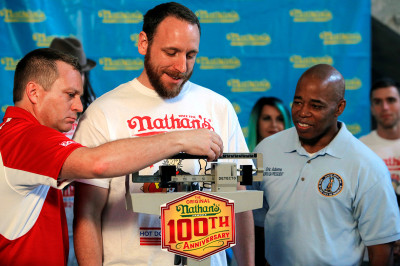 This year, Joey Chestnut was back on track. Weighing in at 217lbs (98kg), Chestnut is eight-time Nathan's Famous Hot Dog Eating Champion and world-record holder for eating the most hot dogs. Chestnut was up against 2015 winner, and reigning champion Matt Stonie, who weighed-in at 128lbs (58kgs).
Joey Chestnut reclaimed his crown, managing to consume 70 hot dogs in 10 minutes — the most hot dogs and buns ever eaten at the competition. Matt Stonie ate 53 hot dogs, losing the competition to Chestnut by 17 dogs.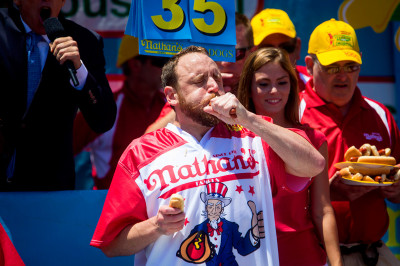 Hot dog eating is not Chesnut's only accomplishment, "I hold the record for hard-boiled eggs, 141 in six minutes," he told Reuters. "13lbs of rib meat in 12. I did 30 gyros, the Greek gyros, in 10 minutes, which were delicious. I love to eat. If there is a good food, most likely, I hold the record in it. I'm like Peter Pan. I get to travel and eat. I have an engineering degree, but I'm just living a weird dream."
In the women's round Miki Sudo, weighing in at 113lbs (51kg), won the 2015 contest, beating her contender by eating 38.5 hot dogs in 10 minutes. Sudo beat prior champion Sonya 'Black Widow' Thomas, who devoured 34 hot dogs.