Nato to increase military presence in east Europe to meet Russian 'aggression'
Nato plans to boost its presence in eastern Europe to respond to any "aggression" from Russia, Nato Secretary General Jens Stoltenberg said on 10 February. The increase in military forces is to be funded through an increase in US military spending.
"I expect the defence ministers to agree to enhance our forward presence in the eastern part of our alliance. This will send a clear signal. Nato will respond as one to any aggression against any ally. We have already significantly enhanced our presence and readiness of our forces," Stoltenberg told reporters ahead of a meeting of Nato defence ministers in Brussels.
Since Russia's annexation of Crimea, concern that Moscow could order a rapid invasion of Poland or the Baltic states has been growing in west and east Europe. This has led to Nato planning to bolster defences on its eastern flank. However this will not involve stationing any standing forces in the region, which could provoke the Kremlin, despite demands from Poland for permanent Nato bases.
Pressure on Russia
The upcoming Nato defence ministers' meeting will outline plans for a complex web of small outposts, forces on rotation, regular war games and warehoused equipment ready for use by a Nato rapid response force, consisting of 40,000 air, naval and special operations personnel.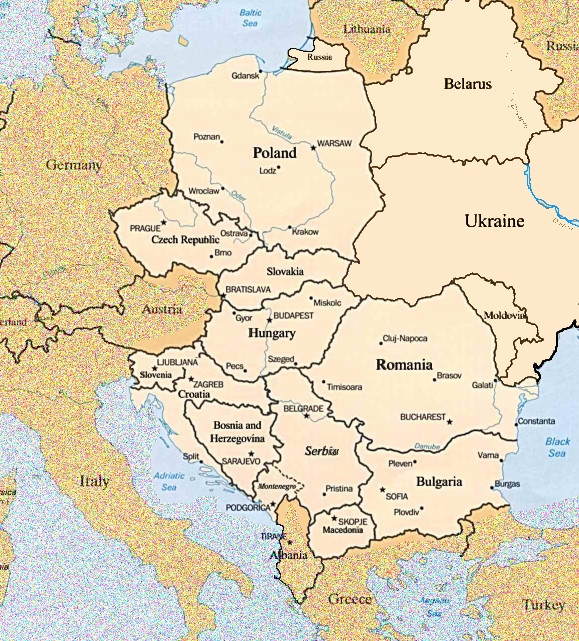 Nato plans to increase its presence in east Europe, due to Russia's annexation of Crimea (not shown on map)
Xxfenderstratxx6 via Wikimedia
"Nato faces pressure now on its eastern border and in the Mediterranean and today we need to unite round a clear plan to deploy troops and ships to deter any aggression and the threats that we've seen. And we want to see faster deployment of those troops," British Defence Secretary Michael Fallon said.
Nato is also expected to reopen dialogue with Russia through the Nato-Russia Council. Nato foreign ministers announced the suspension of "all practical civilian and military cooperation between NATO and Russia", referring to the Council, in April 2014, after Russia forces invaded Crimea. Restarting dialogue through the Council will help to avoid surprise events and misunderstandings, a senior Nato diplomat said.
On Wednesday, Russian foreign ministry spokeswoman Maria Zakharova said Nato's plan is a destabilising factor that is designed to contain Russia.