The Nazi Hunter: Lithuanian Jew-haters gave me a heart attack - but that won't stop me exposing them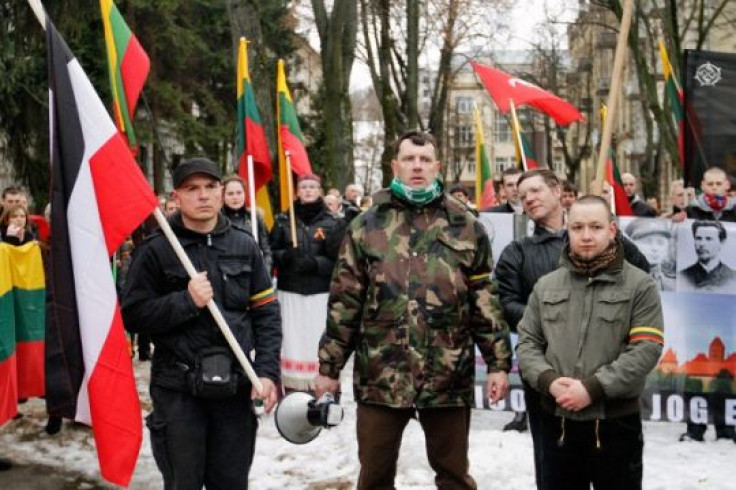 This week I had the very unpleasant experience of spending a subzero, freezing Monday afternoon together with several hundred mostly young Lithuanian neo-Nazis and ultranationalists in the center of Kaunas, Lithuania's second largest city and its former (interwar) capital.
This was the eighth year in a row that the Lithuanian Union of Nationalist Youth chose to celebrate Lithuanian Independence Day by marching down Laisves Aleja, Kaunas' main avenue, shouting their xenophobic and anti-Semitic slogans and waving all sorts of nationalist symbols, some of which clearly reflect Nazi sympathies with dangerous implications.
For several years, Professor Dovid Katz of Vilnius, a world renowned expert on the Yiddish language and especially its Lithuanian (Litvak) variant, tried to draw attention to this hate fest and get it cancelled but unfortunately, no one seemed to care. Nonetheless, he made it his business to try and show up every year to stage a silent protest and monitor the content of the banners, flags and symbols.
Two years ago, in February 2013, I joined him for the first time, inspired by his courage and determined to help draw attention to what was happening in the largest of the Baltic republics.
To say that the experience was sickening would be a gross understatement, and the fact that I had a mild heart attack less than a week later in retrospect hardly surprised me. The saying about "If looks could kill..." rang especially true that Saturday afternoon, as both Professor Katz and I were well-known for our harsh criticism of Lithuania's failure to confront its bloody Holocaust past.
Add the fact that both of us are well over six feet, and that my colleague bears an uncanny resemblance to Karl Marx, we naturally attracted a lot of venom, and in fact, if not for the very effective protection afforded us by the local uniformed police and plainclothesmen, it could have turned out much worse.
This year, both of us tried separately to convince Mayor Kupcinskas of Kaunas to ban the march or at least move it out of the city centre and prohibit Nazi symbols and images, but to no avail. So once again, we showed up to monitor and protest, this time with an additional 10 supporters, eight of whom, I am happy to say, are local residents.
As usual, we were the butt of all sorts of nasty comments, dirty looks and obscene gestures. The marchers even sang a special derogatory ditty in honor of Professor Katz, who admitted to me that until the policemen, already familiar to us from past demonstrations, showed up, he had a few nervous moments.
The best way to explain the problems raised by such marches (a much larger one will be held this coming 11 March in Vilnius, also to celebrate Lithuanian Independence Day), is to focus on the two major themes emphasised by the marchers.
Distorted view of history
The first is their lack of tolerance for their country's minorities. Despite the fact that thousands of Russians, Poles, and Jews have lived in Lithuania for generations, as far as the nationalists are concerned it's "Lietuva lietuvams!" or Lithuania for Lithuanians, and by that they specifically mean ethnic Lithuanians, not residents or even citizens of Lithuania.
With such an ultranationalist and chauvinistic ideology, it is hardly surprising that the marchers' conception of twentieth century Lithuanian history is rather distorted. Thus one of the largest banners, right at the front of Monday's march, bore the image of Juozas Ambrazevicius, the Prime Minister of the Provisional Lithuanian Government established in early July 1941, shortly after the Nazis occupied Lithuania.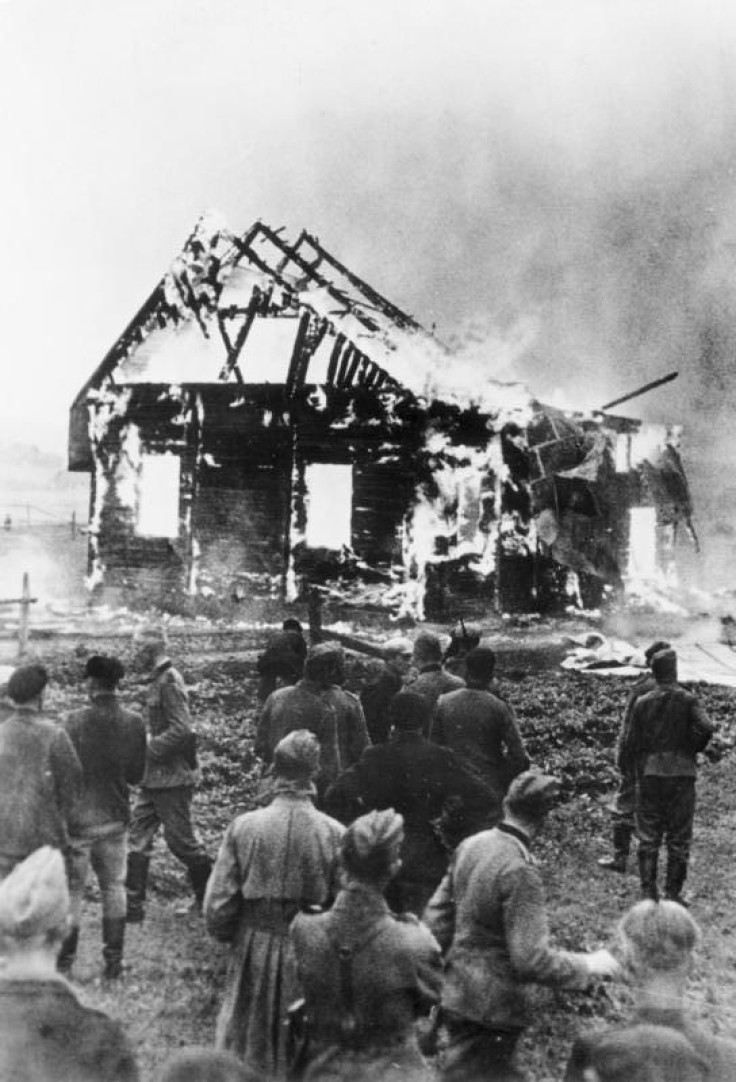 German soldiers and locals watch a Lithuanian synagogue burn, 9 July 1941.
Wikipedia/Bundesarchiv Bild
In their eyes, he's a hero who tried to establish a Lithuanian state, but in fact, he was a war criminal, who unequivocally supported the Third Reich and actively assisted the Nazis in their persecution and murder of Lithuania's Jewish population. In this respect, one could claim that it's hard to blame the young marchers for their historical ignorance, since Ambrazevicius' remains were reburied in Kaunas with full honors in spring 2012, but that is precisely the heart of the problem.
Since independence, and especially following their acceptance as full members into the European Union and NATO, Lithuania and her Baltic neighbors have been hard at work trying to rewrite the narrative of World War II and the Holocaust to minimize the extensive crimes of local Nazi collaborators and promote the canard of equivalency between Nazi and Communist crimes.
In doing so, they are undermining the uniqueness of the Holocaust, and undoing decades of important educational work. Thus they hope to rebrand themselves from nations of perpetrators to nations of victims, obviously a far preferable designation. So, needless to say, the local authorities are hardly perturbed by the slogans, the swastikas, the xenophobia and anti-Semitism on display, because that is precisely what they hope to achieve.
This past Monday's march was only the first of four such marches to be held in the Baltics, two in Lithuania and one each in Estonia and Latvia. My plan is to monitor all four and try to alert the public about this dangerous phenomenon.
Dr. Efraim Zuroff is the chief Nazi-hunter of the Simon Wiesenthal Center and director of its Israel Office. His most recent book is "Operation Last Chance:One Man's Quest to Bring Nazi Crimials to Justice." His websites are www.operationlastchance.org and www.wiesenthal.com He can be reached on Twitter @EZuroff as well as on Facebook.
© Copyright IBTimes 2023. All rights reserved.