Members of the anti-Islam organisation Pegida are said to have given "Nazi salutes" as they marched through Austria's capital, Vienna this evening.
Pegida - which roughly translates as "Patriotic Europeans Against the Islamisation of the West" - has marched in other European countries, notably Germany, but this was their first demonstration in Austria. Several hundred are believed to have attended, with thousands joining an anti-Pegida protest nearby. Police kept the rivals apart but there were no reports of arrests or injuries.
There have been claims that ahead of the demonstration a local mosque was spray-painted with Swastikas on Sunday. In December another Vienna mosque was targeted by thugs who left a pig's head. Last September a street sign was reportedly defaced to read "Sharia Street."
Jews in Austria - the country of Hitler's birth - are also concerned by the recent spate of attacks. Over the weekend a former German concentration camp at Mauthausen was sprayed with swastikas and several men were arrested for shouting anti-Semitic slogans in Vienna, local media reported.
A spokesman for Austria's Pegida movement, Georg Immanuel Nagel told newspaper Die Presse the group wanted legislation passed to ban "Islamism", including anyone promoting Sharia law.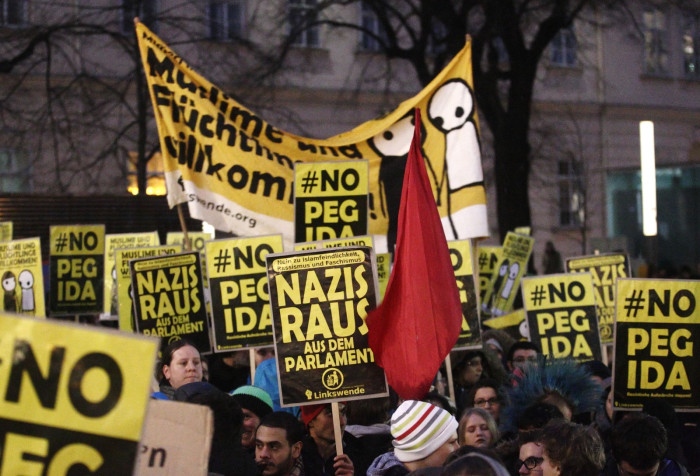 There are around half a million Muslims in Austria out of a total 8.5 million in a mostly Catholic country. The far-right Freedom Party, which claims high popular support, appears to agree with much Pegida stands for.
Freedom Party Leader Heinz Christian Strache said Pegida was a "serious civil rights movement". Recently, referring to Pegida's spiritual home he told cheering followers: "I'm with Pegida in my heart every week in Dresden."
The Austrian government is already proposing the banning of Muslim organisations by foreign groups and the publication of standardised German translations of the Koran. Muslims in the country feel under pressure.
"Of course there is concern," the BBC quoted Islamic Community spokeswoman Carla Amina Baghajati as saying, "but on the other hand we are quite used to a certain segment in society that is Islamophobic, encouraged by parties like the Freedom Party."
The Pegida movement in Germany is in crisis after the resignation of most senior leaders in recent weeks, most embarrassingly that of leader Lutz Bachmann who stepped down after images circulated of him posing as Hitler. A recent Dresden march had to be cancelled following threats of a terror attack.