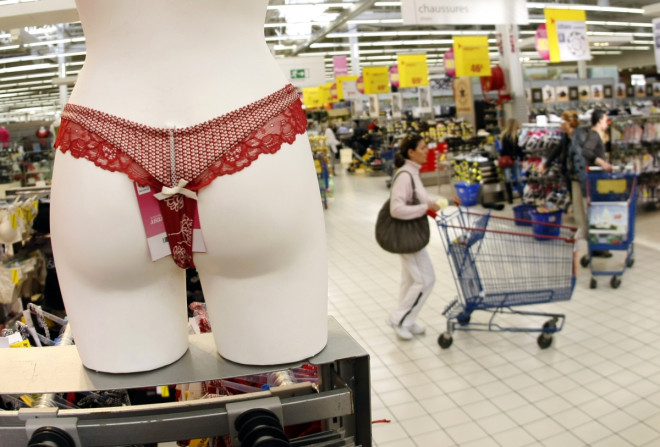 Iran, a country which considers unveiled women immoral and un-Islamic, was left red faced when a woman was caught roaming around the streets of north Tehran in her birthday suit.
The unidentified woman was spotted on the streets of Karaj wearing nothing but skimpy red underwear that barely covered her bottom, the Arab entertainment site al-Bawaba reported.
"The woman, who has not yet been identified, has allegedly "infuriated" the two million citizens of conservative Karaj after the picture went viral on the Internet, leading to growing criticism about authorities becoming "too relaxed" and "not caring about the decline in high morality in society," the entertainment site reported.
The topless woman reportedly walked for three hours on the busy Iranian streets before she was arrested by Iran's religious police.
The shocking act has raised a furore among Iranian extremists who slammed the carelessness of the city authorities. The incident has become a major cause of embarrassment for the country's capital and many think there has been a moral decline in the country due to 'relaxed rules' for women.
The fate of the arrested woman is still unknown. Iran is well-known for its rigid Islamic law which requires women to follow a mandatory dress code by wearing full abayas in public.
Earlier on Sunday during the Iranian Women's Day, Iranian President Hassan Rouhani had appealed for equal rights for men and women, while condemning sexual discrimination.
"Women must enjoy equal opportunity, equal protection and equal social rights," Rouhani said in his speech marking Women's Day in the country.
"According to the Islamic rules, man is not the stronger sex and woman is not the weaker one."
The fate of the woman is still unknown while many Twitter users suspect her to be mentally unstable.
Agent provocateur? #Iran red faced as woman parades in underwear and picture goes viral - http://t.co/PDsLSH6UTO pic.twitter.com/neXqHJdzfm

— Al Arabiya English (@AlArabiya_Eng) April 22, 2014