Almost 50,000 people on Bali, Indonesia, have been evacuated amid fears that the island's largest volcano, Mount Agung, could erupt.
The disaster mitigation agency said 48,540 people have fled the region and that the number is expected to rise as more than 60,000 people live in the danger zone.
Indonesia issued its highest level alert for the volcano on Friday (22 September) and authorities imposed a 12km (7.5 mile) exclusion zone around Mount Agung after hundreds of tremors and signs of magma rising to the surface were reported in the surrounding region.
Evacuees were moved to emergency shelters in town halls and schools.
Officials warned tourists to avoid the region, but flights remain unaffected for now. Visitors were advised to start preparing a "sufficient stock of face masks" after a 200m-tall column of smoke was seen rising from the mountain early on Sunday (24 September).
Thousands of villagers moved their livestock to emergency shelters after Indonesia's centre for volcanology warned that the mountain's "seismic energy is increasing and has the potential to erupt."
Heightened volcanic activity was first noticed at Mount Agung in August and officials have been making arrangements for mass evacuation since then.
"We observed sulphuric smoke spewing from its crater and we never saw this before," Gede Suantika, the chief geologist monitoring the volcano told Reuters.
The UK, Australia and Singapore are among the countries that have warned their citizens against travelling to Bali.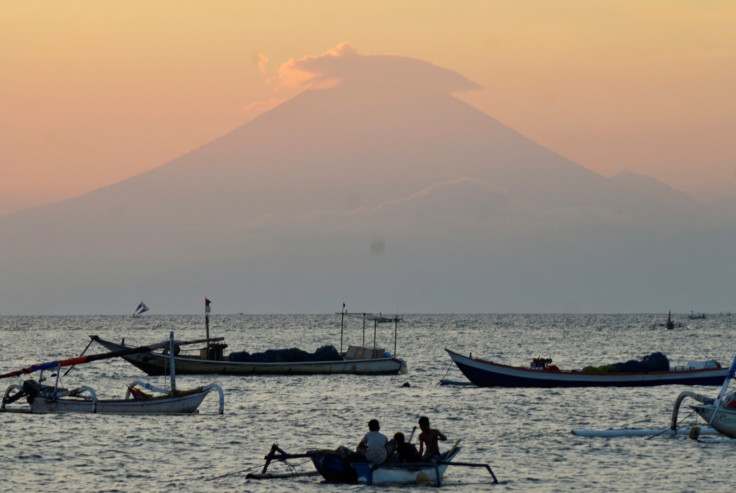 Mount Agung, located more than 3,000m above sea level in the eastern part of Bali, is a popular tourist destination, situated around 70km from the main tourists areas of Kuta and Seminyak.
Indonesia, which is home to nearly 130 active volcanoes, lost more than 1,000 people in 1963 when Mount Agung last erupted.