Nebraska state senator Bill Kintner faces a vote from his fellow legislators on whether he can remain in office after facing criticism for his online behaviour.
The vote, held on 25 January, could make Kintner the state's first lawmaker to get expelled from the legislature in recent history, unless he resigns beforehand.
The senator's troubled history of online behaviour includes the use of a state laptop to engage in cybersex with a woman who later blackmailed him, and retweeting a derogatory post over women's march protesters.
Kintner retweeted a post picturing three women participating in the march holding signs against sexual assault. "Ladies, I think you're safe" the post written by conservative radio presenter Larry Elder read. The tweet has since been deleted.
Kintner initially declined to comment on 23 January, but his office released a statement afterwards. "By retweeting a message, I was not implying support for putting women in fear of their personal safety. I took down the retweet as soon as I became aware that it was being misconstrued," the statement read, as quoted in the Chicago Tribune.
Faced with criticism on social media, Kintner has since deactivated his Twitter account. The Chicago Tribune reported that before he did so, he wrote in response to a critic: "Right out of the liberal playbook, take a joke & claim victim-hood."
Senator Jim Scheer told the Associated Press he's confident lawmakers have enough votes to expel Kintner, but debate over the matter could delay the vote.
Kinter describes himself as a "Ronald Reagan conservative that believes in limited government, free markets and individual liberty", although his anti-choice stance on abortion seems to be at odds with women's individual liberty to preside over their reproductive organs.
Kinter was not the only official facing backlash for sexist comments made about Saturday's women's marches, which saw 3 million people around the world demonstrating for gender equality. Across the US public officials have been reprimanded, called out or disciplined over sexist, boorish or vulgar social media postings.
In Vice-President Mike Pence's state of Indiana, Republican house speaker Brian Bosma is planning social media tutorials after posts from at least two lawmakers caused a wave of criticism. Republican legislator Jim Lucas shared a photo of a woman sprayed in the face with pepper spray with a caption that read: "Participation trophies. Now in liquid form" written in capital letters. Republican state senator Jack Sandlin shared a meme crediting President Donald Trump for getting "more fat women out walking than [former first lady] Michelle Obama did in 8 years."
The house speaker partially blamed "the Twitter storm created by our president" which he said "makes people feel this is an appropriate vehicle to communicate." Bosma added: "We're elected officials, we're held to a higher standard."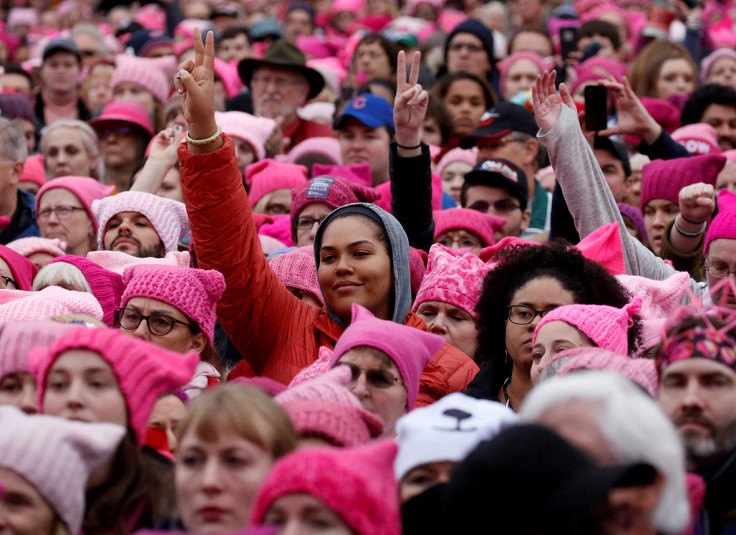 According to the Associated Press, other incidents were reported in Mississippi, Rhode Island and New Mexico, in what seems the be the new normal for a country that is trying to redefine the rules of public speech shaken to the core by Trump's calls to abandon so-called political correctness.
According to Michael Cornfield, a George Washington University professor who studies politics in the internet age, most public officials have to expect to be held accountable for what they write on social media. "Very few people in public life, even today, get away with what Trump was able to get away with," he told the Associated Press. "I wonder what these gentlemen were thinking."
The backlash for sexist remarks made on social media have also hit school officials. Dathan Paterno, a school board member in Illinois, where Hillary Clinton grew up, resigned on 23 January after he called the protests a "farce" by "vagina screechers" on Twitter. In his resignation letter, he wrote the tweets were "understandably misinterpreted".
Also in Illinois, a student started a petition after teacher Mark Kaczmarek tweeted a photo of a 1950s housewife commenting that the women's march protesters "all went home to make dinner".
The petition read: "There is no place for bigotry, racism or sexism in the classroom, yet he consistently teaches his hate-filled views in his class."
A rival petition started anonymously in support of the teacher said there was "no proof" that he "ever engaged in any kind of sexist, racist or even homophobic hate speeches in his classroom".
District officials said in a statement the teacher was "removed from the classroom" for posting a view of women that "does not reflect the values" of the school.