The Women's March on Washington has taken over D.C., with double the amount of attendees on the protest march compared to crowds at Donald Trump's inauguration.
Organisers estimated the crowd had swelled to 500,000, with rides taken on the D.C. Metro expected to be higher than yesterday, when Metro counted just 193,000 rides taken by 11am, while trains and stations appeared to be far busier today (21 January).
Attendance numbers at President Trump's inauguration are estimated to have been around 250,000, compared with Barack Obama's reported 2009 numbers of around 1.8 million, and the Women's March numbers of half a million.
Crowds of around 200,000 had been expected in Washington D.C. for the march, but at least double the number turned up to defend women's rights.
Despite organisers of the march not mentioning Donald Trump's name in their mission statement, they did say the march was intended to send a strong message to the new government that women's rights are human rights.
There were also plenty of banners referencing the misogynistic remarks made by the US president, including references to footage released ahead of the presidential election that showed Trump stating he could 'grab women by the p***y'.
The march's website said: "The rhetoric of the past election cycle has insulted, demonized, and threatened many of us - immigrants of all statuses, Muslims and those of diverse religious faiths, people who identify as LGBTQIA, Native people, Black and Brown people, people with disabilities, survivors of sexual assault - and our communities are hurting and scared.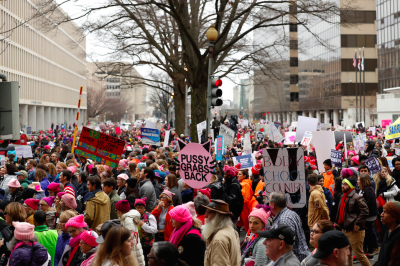 "In the spirit of democracy and honoring the champions of human rights, dignity, and justice who have come before us, we join in diversity to show our presence in numbers too great to ignore
"The Women's March on Washington will send a bold message to our new government on their first day in office, and to the world that women's rights are human rights. We stand together, recognizing that defending the most marginalized among us is defending all of us."
Speaking at the event, activist and filmmaker Michael Moore tore up a copy of The Washington Post whose front page featured the headline 'Trump takes power'.
He said in comments carried by The Hill: "I don't think so! We are here to vow to end the Trump carnage!" ripping up the paper as he spoke.