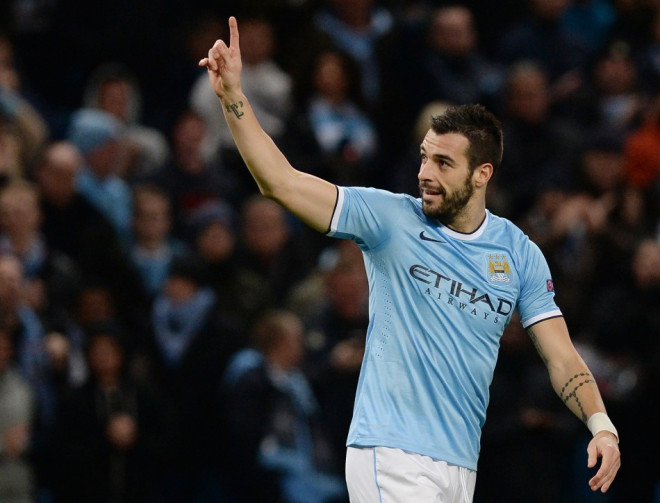 Manchester City striker Alvaro Negredo is worried about keeping his spot in the Spanish squad for the World Cup after falling out of favour with Manuel Pellegrini.
The Spaniard began the season well following his summer move from Sevilla but he suddenly disappeared from Citi's starting line-up in favour of Edin Dzeko.
Negredo, who missed the last World Cup, was in the last Spanish squad for La Roja's friendly against Italy, but his failure to score a Premier League goal since 12 January and his demotion to the bench for City's last five domestic league games has affected his chances of making the trip to Brazil.
Nevertheless, he is still confident of recovering his place in Pellegrini's line-up in the last three games of the season to prove toVicente Del Bosque that he deserves a place at the World Cup.
"Not playing regularly here means the national manager has not seen much of me - but I won't give up. Quite the contrary - I am full of optimism. I believe he will still have confidence in me," he told Manchester City's official website.
"It's my dream to be involved in the World Cup - it would be great and is something I am fighting for. It's about carrying on with the same dynamic that served me so well earlier in the season."
The Spaniard believes that the shoulder injury that he suffered in mid-season damaged his transition to the Premier League but the forward is still confident on ending the season on a high.
"I settled in right from the word go although initially my time on the pitch was limited. But I continued to work hard and when I got the chance I started to score goals," said Negredo.
"I was able to bring something to the party in terms of my performances. I then picked up a shoulder injury which affected things. We were struggling up front suffering from injuries and needed all the support we could get.
"I was playing games when I wasn't fully fit - but things have turned around now and I am fit again. I am not featuring as regularly as before.
"I did that by working hard on the training field and scoring goals when I got my chance. Hopefully that's what will happen again. It's just a case of working as hard as I can to get as many minutes on the pitch as possible to repay their faith in me."