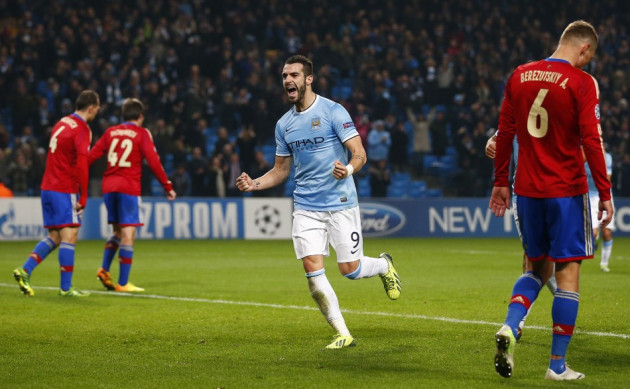 Alvaro Negredo believes that Manchester City owe it to their supporters to win a major trophy this season after their failure in the last campaign.
After winning the Premier League title in the 2011/12 season, City had a year to forget as they finished runners-up to bitter rivals Manchester United and lost in the FA Cup Final to Wigan Athletic.
Having qualified for the knockout stages of the Champions League for the first time, summer signing Negredo says it is vitally important for Manuel Pellegrini's side to win a major trophy this season.
"Definitely the target is to win a big championship," the striker told Spanish radio station Cadena Ser. "Manchester City is growing a lot and winning a trophy is a must for us."
Negredo, who scored a hat-trick in the 5-2 win over CSKA Moscow in the Champions League, added: "Winning the Premier League would be nice. The Champions League too, of course, but we know that this is going to be tougher.
"Perhaps it is soon to talk about trophies. We are in the next round of the tournament and we hope to continue with our success in the competition."
After securing a place in knockout stages, the next target is fighting with Bayern Munich for top spot. Pep Guardiola's side currently top the table with 12 points, three ahead of Manchester City.
"First we have to win Viktoria and then go to Munich with confidence," stated Negredo. "Bayern is a great team with a great coach. They have everything.
"Luckily we are not going to play against Bayern in the next round. Also It would be good to avoid Barcelona and Real Madrid, but at the same time for me go back to Spain would be a nice experience".
Negredo, who has scored nine goals in 16 games since he arrived at City this summer from Sevilla, also revealed how pleased he was to score a hat-trick against CSKA as it shows he is quickly adapting to life in England.
"It is very easy to play with these players because of their mobility and their passing game," revealed the Spaniard. "We are playing great lately and scoring a lot of goals."