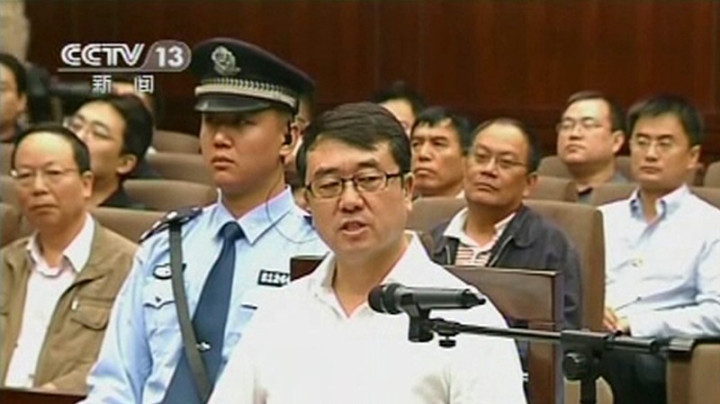 Former Chongqing police chief Wang Lijun has been sentenced to 15 years in jail for crimes related to the murder of British businessman Neil Heywood, one of the biggest political scandals in China in recent years.
Wang was found guilty of covering up the murder of Heywood and "bending the law for selfish ends, defection, abuse of power and bribe taking" by a court in Chengdu, southwest China.
The combined sentence includes nine years for taking bribes, seven years for covering up the crime, two years for defection and two years for abuse of power.
''We decided to sentence him to 15 years altogether on all the four charges and deprive [him of] his political rights for one year," said court spokesman Yang Yuquan.
Wang, 52, could have received the death sentence or life imprisonment for his crimes under Chinese law. However it is believed the court imposed a milder sentence because he eventually played a key role in leading the authorities to Gu Kailai, who was convicted of poisoning Heywood in August.
The court heard that, in the aftermath of Heywood's murder in November 2011, Gu confessed to Wang that she had committed the crime, but the police chief failed to disclose this information to colleagues.
He also selected deputy police chief Guo Weiguo, a close personal friend of both Gu and her husband, Chongqing Communist party chief Bo Xilai, to lead the Heywood murder inquiry.
However Wang fled to the US consulate in Chengdu in February and revealed details of the murder to American diplomatic staff - paving the way for the eventual arrest and trial of Gu, who was given a suspended death sentence for killing Heywood after a protracted dispute.
Wang's lawyers also pointed out that their client played a major role in tackling drugs and organised crime in Congqing, uncovering several major crimes in tandem with Bo - whose political career appears to be over after the Heywood trial.
The court found that Wang "rendered a major contribution [to tackling crime], and according to the law he can receive a lighter sentence."
Wang reacted to the sentence by saying: "As for the crimes that the prosecution has alleged, I understand them, I admit to them and I am repentant for them."