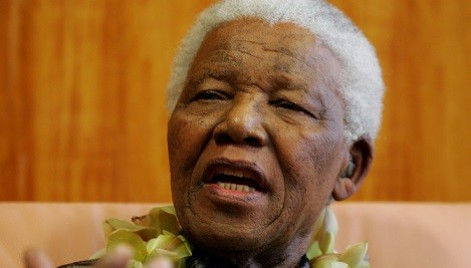 The South African government has said it would not be releasing any photograph of Nelson Mandela lying in state but a hoax photo of the former president has been circulating online.
While tens of thousands of mourners queue to view the body of the anti-apartheid leader in Pretoria's Union Buildings, the government and Mandela's family requested that no photos of him be released.
No mobile phones are allowed into the building where Mandela was sworn in as the country's first black president in 1994.
However, a photo appeared online of what appeared to be Mandela's face with his eyes closed. Many people took to social media to express their dismay at the apparently leaked photograph.
The grainy close up of the photo has since been dismissed as a hoax by French news agency AFP, who revealed it to be an altered photo of Mandela from 1991.
It is not known where the hoax photograph originated from.
The South Africa government are now urging people to ignore or remove the photograph if they see it appear online.
"The government is aware of social media activity on the existence or otherwise of a picture of President Mandela lying in state," said an official statement.
"If this content exists, government calls on people not to view it and to delete it from their timelines."
Mandela's body will lie in state for three days before it is flown to the village of Quno in Eastern Cape where he grew up.
His funeral, expected to be one of the biggest of all time, will take place on 15 December in Pretoria.
Read:
Nelson Mandela Death Fears: Government Reveals Plan for Memorial Service at Soccer City
Nelson Mandela: Inspirational Quotes from a Giant of History