A series of tributes to former South African President Nelson Mandela, who died on Thursday aged 95, will be held at football matches across Britain this weekend.
A minute's applause in honour of the iconic anti-Apartheid leader will take place before kick-off at a number of Premier League football matches on Saturday, with the Football League and the Scottish Professional Football League recommending similar homages at their games.
The first Premier League match tribute will take place at the Manchester United v Newcastle game on Saturday at 12:45pm GMT. Six other games will feature tributes to Mandela on Saturday, with two further tributes planned for Sunday and one at the Swansea v Hull match on Monday.
Shaun Harvey, chief executive of the Football League, said: "Nelson Mandela was an inspiration to millions and his determination, courage and forgiveness marked him out as a truly great man.
"We are delighted to give clubs and their supporters the opportunity to pay their own tributes to Nelson Mandela and recognise his extraordinary legacy."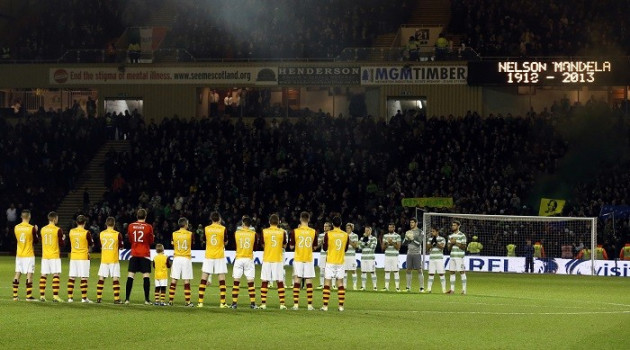 England World Cup legend Sir Bobby Charlton, who formed a friendship with Mandela following the African leader's release from prison on Robben Island, paid his own tribute to "Madiba", as Mandela was affectionately known to South Africans and admirers around the world.
"I was deeply saddened to hear the news of Nelson Mandela's passing," Charlton said. "My thoughts and prayers are with his family and the people of South Africa and while we will all mourn his death, we should also celebrate his life - and what a life!
"Mandela worked tirelessly all of his life for racial equality and his legacy will live on way beyond our lifetime. I feel blessed to have lived during his life span and privileged to have met him on a number of occasions. God bless my friend, Madiba."
A vigil was held on Friday evening in London's Trafalgar Square opposite the South African High Commission, where people queued to sign a book of condolence and leave floral tributes. UK Prime Minister David Cameron and opposition leader Ed Miliband were among those who left tributes in the condolence book.