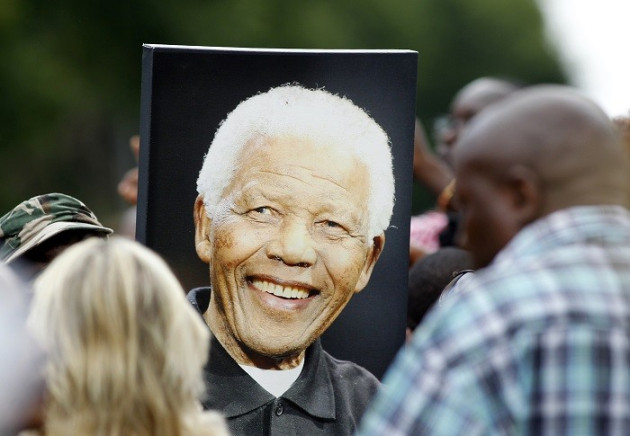 "Madiba made us one people - that is why we are crying. We have lost a hero," said Sylvia, a domestic worker in Johannesburg talking about her reaction to the death of Nelson Mandela yesterday evening.
But the tears for his loss are tinged with happiness too, she added, because he was an old man who had been suffering ill health for a long time and "now God has taken him".
And these mixed feelings about Mandela's passing seem widespread - personal sadness that such an inspirational figure has gone combined with relief that he is "finally resting" as Thandeka, an NGO worker put it.
Jackie, an Afrikaans teacher from Cape Town, also reflected the views of many when she said that she felt almost as if she had known Madiba personally.
"When I heard the news, I stopped, took a breath and really cried my eyes out," she added. "To me, he represented everything good about South Africa - unity and patriotism, integrity and honesty, humour and grace."
But if, after his passing, things may have seemed quite normal, although somewhat subdued, on the streets of Johannesburg this morning, the previous night had born witness to a number of typically vibrant South African-style vigils.
Both outside Madiba's house in the well-heeled suburb of Houghton and in front of the Mandela Centre in Soweto, people wearing T-shirts bearing his image danced and sang struggle and freedom songs, songs invoking his name and, most potently of all, songs of peace.
Swarming into the wide leafy boulevards near the Mandela home, some arriving by car, others walking and still dressed in their pyjamas, people carried lit candles and framed pictures of the man himself.
One young man with long dreadlocks even clutched a bunch of pure white lilies, but seemed unwilling to put them down.
And this morning, people were still continuing to gather to pay their respects. According to Thandeka, this meant that some were choosing not to go to work today and, in fact, are not planning to do so "until he is laid to rest" on Saturday 14 December.
Changing times
Others, however, took a more measured, introspective approach. Gregg, who runs his own hairdressing salon in Parkhurst, Johannesburg, said that he and the majority of his clients simply didn't feel like going out "partying to celebrate his life".
Instead, the overwhelming urge was "to be quiet as a way of showing our respect and to have the space to think about the positives".
Gregg personally does not hold any store by the doom-mongering prophecies of the Boer prophet, Siener van Rensburg, who predicted a Night of the Long Knives following the death of South Africa's first black leader.
Instead he wonders if having the eyes of the world on the country for a while might actually turn out to be a good thing.
"I don't think there'll be any trouble - it would go against everything Mandela fought for," Gregg said. "But international attention might bring the government into line a bit - we hear about corruption on a daily basis, but things might change if they realise the world is watching,"
Sharon, who works for a large US multi-national, agrees. "Any negative impact would taint his legacy, which is not what he or his family would want. It might even draw South Africans of all races, colours and creeds closer together," she said.
But not everyone is so sure. Sylvia believes that, while Madiba's gift to the nation was to unify the people, the current regime, which is made up mainly of members of the Xhosa and Zulu tribes, simply looks after its own - and she thinks the situation is only likely to get worse.
"Madiba wanted people to be united, but things have changed now. Black people are separated and the Xhosa and Zulu look after themselves, not the Limpopo or other people," she said.
Jackie, meanwhile, is concerned that things may change for the worse for the white community too.
"I think there are a lot more extreme steps the government wants to take but couldn't because the spirit of Madiba kind of looked over their shoulder, and they perhaps knew that he wouldn't be happy with it," she said.
A strong foundation
In her view, the regime is keen to take land reform and Black Economic Empowerment "to another level and now that it's the end of an era, they will feel more free to go ahead".
The problem, she believes, is that they are "just looking at skin colour - although in a very different way than during apartheid - and so are forgetting what it's all about".
But Sandy, an advertising executive, said she was afraid that white people could end up being expelled from the country and that, without the restraining presence of Mandela, xenophobic violence against foreigners could increase, not least due to current high rates of unemployment.
"There's an underlying fear that things could get bad for the white community, but also bad for the black community. Madiba made promises and the ANC took over and hardly met any of them," she explained.
While the nation was currently grieving, Sandy pointed out that anger often followed loss.
"Sometimes, it takes time for things to sink in, but there's a lot of underlying anxiety as people wait to see what's going to happen," she added.
Thandeka likewise agrees that Mandela's death could well lead to some form of upheaval, although she expects it to be more political in nature.
"I'm not sure about the future of this country for it seems our current leadership and politicians are doing everything in their power to destroy what Tata Madiba worked hard for," she said.
"Some of us voted into power the current leadership for the sake of Tata's hard work and the sacrifices he made for us to live a better life. Now that he is no more, I'm not sure what's going to happen, but I can tell you and am certain, there's going to be a lot of changes, specifically in politics."
But as South Africa mourns, the hope is that the nation will learn the lessons of the past and find ways to come together in its grief.
As Ilze, who works for a large US dentistry company, concluded: "Many people will sit back and take stock of their own lives and the way they conduct their business. Madiba has built a strong foundation and future leaders must take guidance from it now and in the future. It's the only way that our democracy can mature."
READ:
Nelson Mandela: Is South Africa Heading for a Zimbabwe-style Meltdown?
Nelson Mandela: Images of an Icon
Nelson Mandela Dies Aged 95 LIVE REACTION
Nelson Mandela's Body Moved to Pretoria
Nelson Mandela Death Fears: Government Reveals Plan for Memorial Service at Soccer City