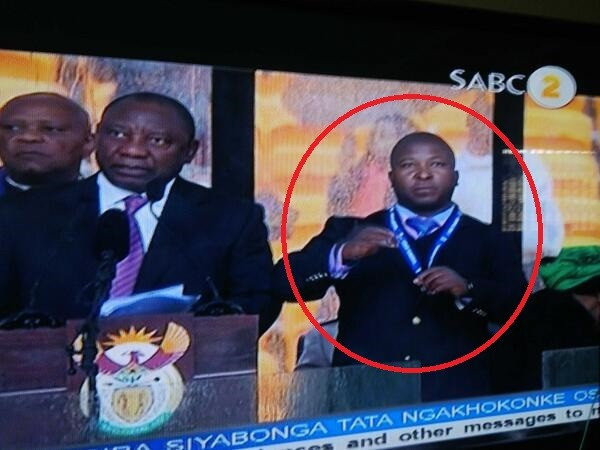 Deaf South Africans are up in arms after a sign language interpreter at Nelson Mandela's memorial service appeared to not know how to do the job.
Millions of viewers tuned in to watch world leaders pay tribute to South Africa's first black president, who died at home last weekend.
But deaf viewers were left complaining they could not follow what was being said on stage because the man interpreting proceedings for them via sign language was incomprehensible.
He was accused of literally making it up as he went along by randomly waving his arms in the air behind a procession of dignitaries.
Deaf viewers vented their frustration on Twitter. Deaf activist Alison Bryan wrote: "Fake interpreter on stage at the Nelson Mandela Memorial Service. Just some random person flapping arms about."
The un-named man was accused by another deaf person of insulting behaviour. Francois Deysel said: "Please can someone ask the interpreter to step down from stage, it is embarrassing and making a mockery of our profession."
Sign Language Education and Development in Cape Town director Cara Loening, told local media: "He is a complete and utter fraud; It was like getting somebody off the street and telling them to flap their hands around. This man made a mockery of the service - how disrespectful for what Madiba stood for. Deaf people had very, very little access to information from the memorial service.
"If he values his life he must come clean because the deaf community throughout the world are outraged," she said.
Unconfirmed reports claimed the interpreter was linked to the ANC, the party which Mandela used to lead. If true, it would cap a bad day for the organisation after current South African President and party leader Jacob Zuma was booed by a half-empty stadium as thousands of people stayed away from the high-profile event.
A government spokesman said it would "get to the bottom" of the claims.