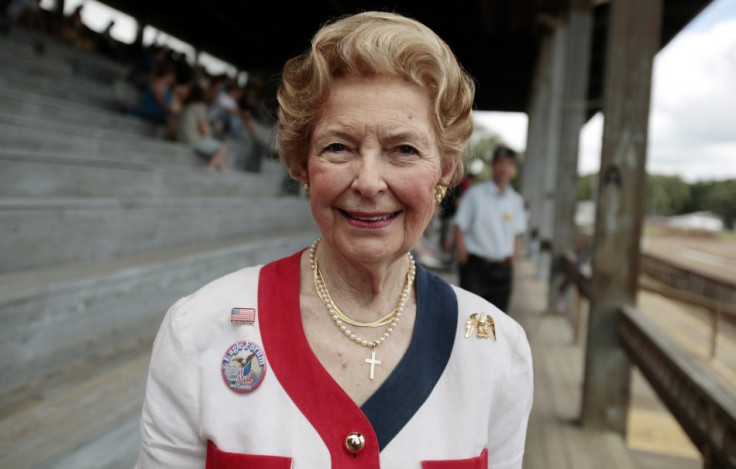 Arch-conservative Phyllis Schlafly, who galvanised the movement for almost two generations and was credited with nearly single-handedly defeating the Equal Rights Amendment to the US Constitution, has died at the age of 92.
She died from cancer at her home in St Louis, Illinois, on Monday (5 September). Her death was confirmed by the Eagle Forum, the Missouri-based conservative advocacy organization she led.
The controversial Schlafly rocked the boat right to the end with her endorsement of Donald Trump, whom many right-wingers don't view as a true ideological conservative. Schlafly hailed the Republican candidate's get-tough position on illegal immigration which she said recently was the "most important issue" in the nation, CNN reported.
Following her death Trump hailed Schlafly as a "champion for women."
He called her a "conservative icon who led millions to action, reshaped the conservative movement, and fearlessly battled globalism and the 'kingmakers' on behalf of America's workers and families."
Schlafly was known by supporters as the "first lady" of the American conservative movement, but she was reviled by her enemies. Feminist Betty Friedan considered her an "Aunt Tom" who should "burn at the stake" for her vociferous battles against abortion rights and the Equal Rights Amendment (ERA).
She first rose to prominence in the 1950s when she joined the conservative crusade against international Communism. Her popularity surged with the successful sale of her self-published book in the 1960s, A Choice, Not an Echo, in which she slammed plotting East Coast kingmakers for manipulating the Republican Party and its candidates.
Schlafly's relentless work against the Equal Rights Amendment was largely considered its death blow in 1982, though it came very close to passage. The amendment would have expanded women's rights by barring any gender-based distinctions in federal and state laws.
"Since the women are the ones who bear the babies and there's nothing we can do about that, our laws and customs then make it the financial obligation of the husband to provide the support," she said in 1973. "It is his obligation and his sole obligation. And this is exactly and precisely what we will lose if the Equal Rights Amendment is passed."
Schlafly mined a populist sentiment among religious housewives opposed to the feminism and liberalism that was the coin of the realm in the US in the 1960s. The tough but always prim, pearl-necklace-wearing mother of six with a helmet of perfectly coifed hair mobilised armies of similar women to ring doorbells, make phone calls and show up at community and political meetings to help turn the country rightward.
Besides her political activities Schlafly wrote some 20 books and a monthly newsletter, appeared on hundreds of radio stations and as a commentator on CBS and CNN. She graduated from law school in 1978. Her feverish work was strangely out of sync with the ultra-traditional ideas of gender roles she battled so hard to preserve.
The always unruffled Schlafly knew exactly how to goad people she disagreed with. She declared that sexual harassment at work "is not a problem for virtuous women" and that sex-education classes are like "in-home sales parties for abortions".
"I want to thank my husband, Fred, for letting me come here," was an often-used opening for her speeches. "I like to say that because I know it irritates women's libbers more than anything else."
In a 2006 interview with the New York Times, she attributed the improvement in women's lives not to feminism but to labour-saving devices such as the clothes dryer and paper nappies.
She was born Phyllis McAlpin Stewart in 1924, the elder of two daughters, in St Louis. Her mother, ironically, worked to help with the family finances after the Depression.
At the age of 25 Schlafly married wealthy local attorney John Fred Schlafly, Jr. Two years later in 1952 she ran for Congress after her husband turned down a request by the local Republican Party to be a candidate. She won the primary but lost the general election.
Candidate successes would prove not to be her thing. She campaigned hard for Barry Goldwater for president but he went down to a landslide defeat in 1964. Shlafly ran again for Congress in Illinois in 1970 but lost.
Schlafly, who is survived by six children, 16 grandchildren and three great-grandchildren, vigorously opposed gay marriage, even though a son was outed as gay in 1992.
"Nobody's stopping them from shacking up," she said of gays in 2010. "The problem is that they are trying to make us respect them, and that's an interference with what we believe."
Schlafly's latest book, The Conservative Case for Donald Trump, is set to be published the day after her death.
Funeral arrangements are still being finalised, according to the Eagle Forum.