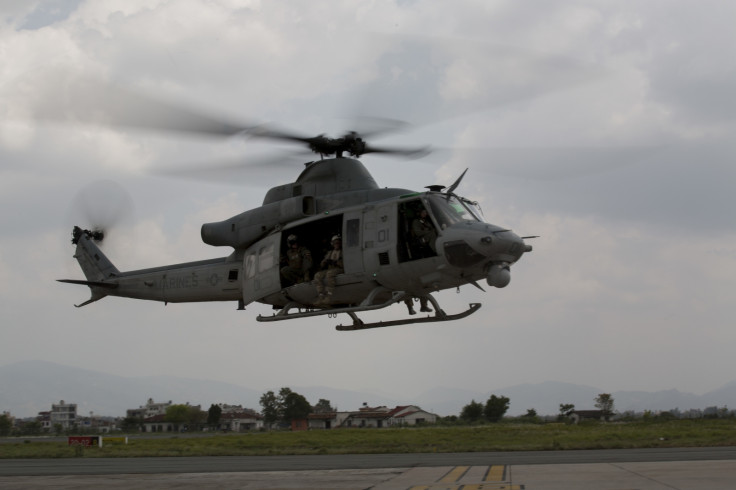 Nepal has said all eight bodies inside the US aid helicopter, which crashed during the earthquake relief operations, have been recovered.
Shortly after the wreckage of the US marine helicopter was spotted, Nepali authorities found eight bodies – six US marines and two Nepali soldiers – in the vicinity.
The wreckage was found scattered on a steep slope of the mountainous area of Ghorthali village in Sindhupalchok district, 68 hours after the US Marine Corps UH-1Y Huey went off the radar.
"The bad weather condition—high speed wind, prevented the team to retrieve [sic] the charred bodies," Nepal's Army Major General Binoj Basnyat said.
The cause of the crash is yet to be ascertained as Nepal and US military personnel are investigating the crash site. The helicopter was on a search and rescue mission in Dolakha, one of the worst hit districts, when it went down.
"While we mourn the tragic passing of our service members and [those] of the Nepalese army, we recognize that the Nepalese people have suffered a loss of thousands of their own citizens," said Lieutenant General John Wissler, a senior commander of the Marines based in Japan.
Meanwhile in the US, the father of the pilot, Ron Norgren, came forward revealing the identity of the pilot of the doomed chopper.
Speaking about his son Captain Chris Norgen, the father told reporters: "He loved to fly, and he went through rigorous training sessions at Camp Pendleton. He loved to help people. Faith is going to pull my wife and I through this."
The US officials have not yet formally released the names of the victims.