The death toll from Nepal's earthquake has soared past 3,700 and is expected to be far higher once rescue workers reach vulnerable mountain villages.
Reports received so far by the government and aid groups suggest that many communities perched on mountainsides are devastated or struggling to cope.
The magnitude 7.8 earthquake spread horror from Kathmandu to small villages and the slopes of Mount Everest, triggering an avalanche that buried part of the base camp packed with foreign climbers preparing to make their summit attempts.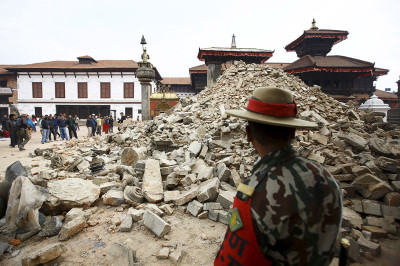 Many of those injured and killed by the powerful earthquake in Nepal were children.
The United Nations Children Fund said nearly one million children were severely affected by the quake, and warned of waterborne and infectious diseases.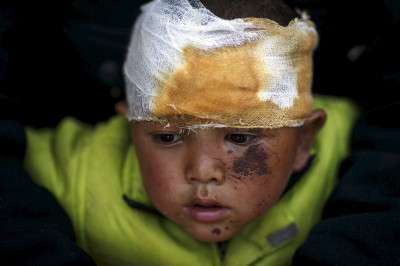 Mountain rescue teams used helicopters to airlift climbers stranded at high altitude on Mount Everest. Survivors described a cloud of rock and ice that smashed into base camp.
Three Americans were killed, including a Google engineer, a medic and a filmmaker. Japan's foreign ministry said a Japanese man was among those killed.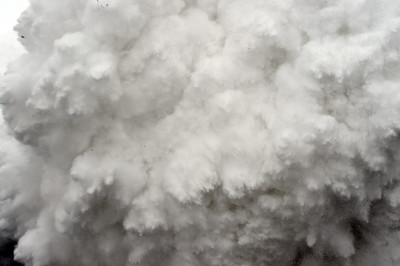 Over 1,000 of the victims were in Kathmandu, the capital, where tens of thousands of families have taken to sleeping outdoors, fearful of aftershocks that have not ceased.
Kathmandu district chief administrator Ek Narayan Aryal said: "There have been nearly 100 earthquakes and aftershocks, which is making rescue work difficult. Even the rescuers are scared and running because of them."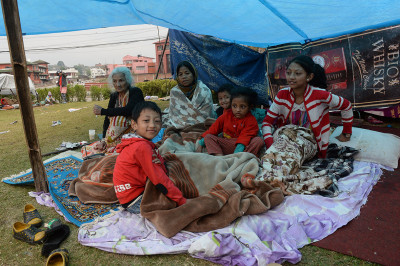 "We don't feel safe at all. There have been so many aftershocks. It doesn't stop," said Rajendra Dhungana, 34, who spent Sunday (26 April) with his niece's family for her cremation at the Pashuputi Nath Temple. Acrid, white smoke rose above the Hindu temple, Nepal's most revered. "I've watched hundreds of bodies burn," Dhungana said.
Authorities have resorted to mass cremations as Nepal's government has been overwhelmed by the scale of the disaster. Bodies are piling up in the Himalayan kingdom and hospitals have run out of storage room for the dead.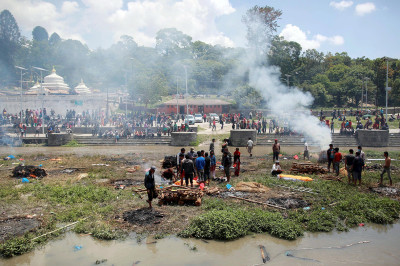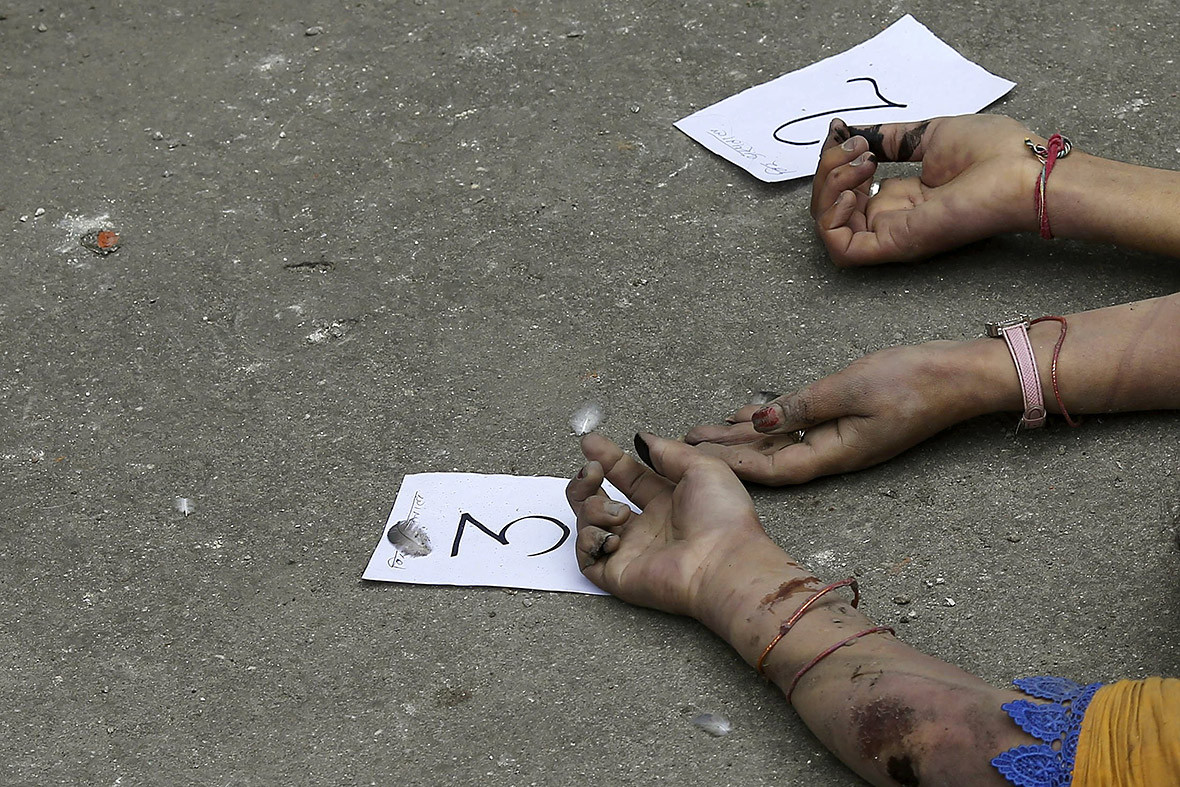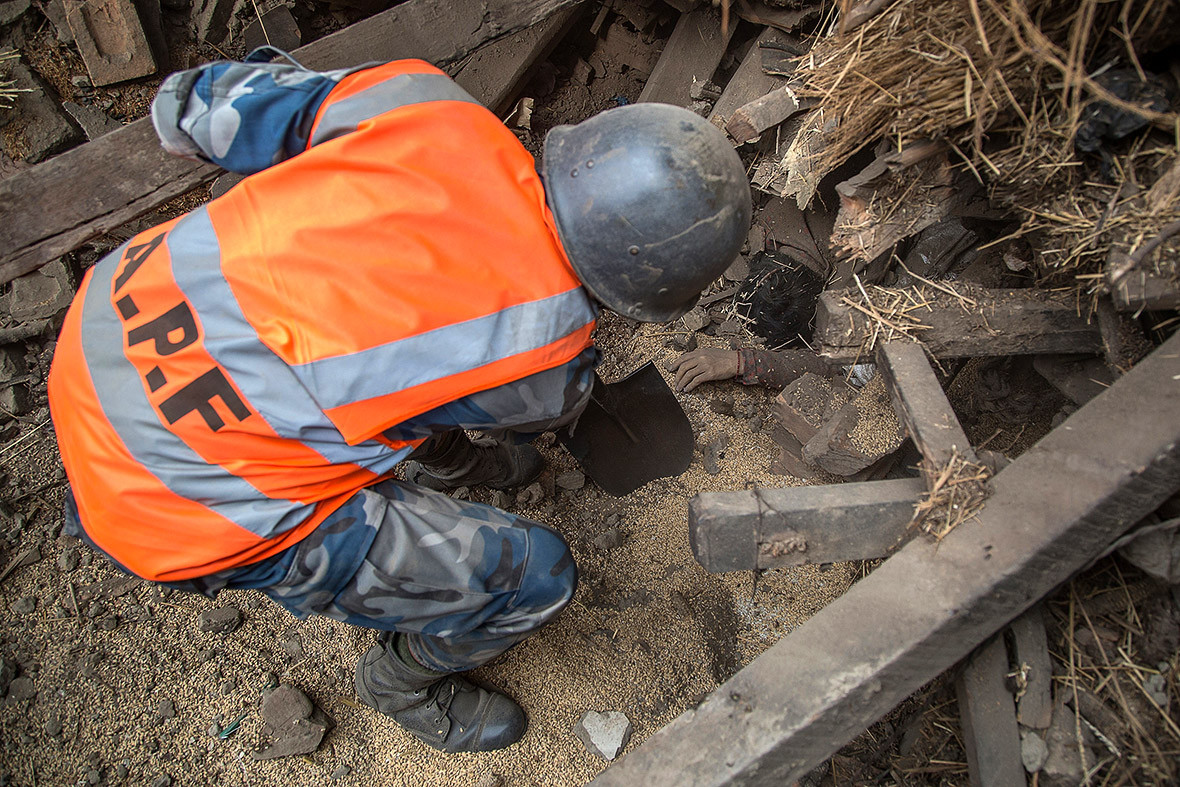 Thousands of Nepalis have begun fleeing Kathmandu, terror-stricken by two days of powerful aftershocks and fearing shortages of food and water. Roads leading out of the mountain valley city of one million are jammed with people, many with babies in their arms, trying to climb onto buses or hitch a ride aboard cars and trucks.
Huge queues formed at Kathmandu airport with people desperate to get a flight out.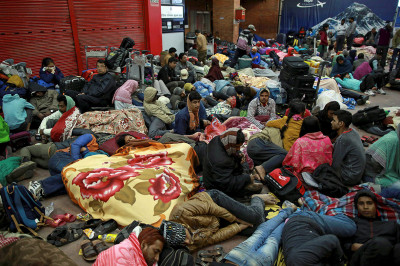 In the temple town of Bhaktapur, east of Kathmandu, centuries old buildings have collapsed and those that were still standing are showing cracks.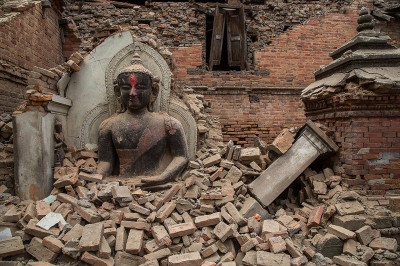 The US Geological Survey said the quake was centred near Lamjung, about 80km (50 miles) north-west of Kathmandu. While not far away, poor roads and steep mountains make Lamjung difficult to reach. Even before the quake, it could take six hours to drive from Kathmandu to parts of the area. Now, many of the few roads are believed to be cut off by small landslides.
Overwhelmed authorities are trying to cope with a shortage of drinking water and food, as well as the threat of disease. The disaster has underlined the woeful state of Nepal's medical facilities. Nepal has only 2.1 physicians and 50 hospital beds for every 10,000 people, according to a 2011 World Health Organization report.