Dramatic footage of the deadly Mount Everest avalanches triggered by the massive earthquake in Nepal has emerged.
As the avalanches thundered down the slopes of Mount Everest, several climbers were caught unawares.
The video, posted by German climber Jost Kobusch, shows relaxed climbers at the base as the ground beneath them begins to shake. Immediately after that, the snow begins rolling down, causing panic and within seconds their tents are flattened.
The survivors are then seen hysterically looking for other climbers underneath the flattened tents.
"It was a monstrous sound, like the demons had descended on the mountain," Khile Sherpa, one of the survivors who opened his eyes to see the blood-soaked snow around him, told Reuters.
He was one of the 15 survivors who managed to live to tell the tale of the avalanches, which killed 18 others. There were about 1,000 mountaineers on Mount Everest when the avalanches hit the area.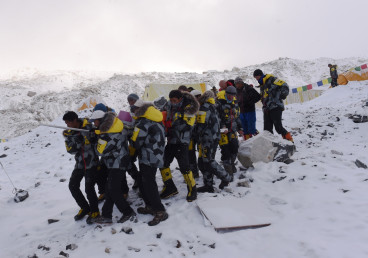 Emergency operations have been carried out to rescue the remaining climbers while the seriously injured are being airlifted by helicopters.
But the efforts are being hampered by aftershocks. More than 50 aftershocks, some as powerful as 6.8, have been recorded since Saturday's (25 April) devastating 7.9 earthquake.
The base camp on the Nepal side of the Everest is a major danger spot especially for avalanches. It is located in a valley surrounded by high Himalayan peaks leaving climbers nowhere to run.
Climber Alex Gavan, who was at the base camp when an avalanche struck, wrote on Twitter: "Things quiet now but large areas of base camp look like after a nuclear blast. Great desolation. High uncertainty among people."
Meanwhile, the death toll in the earthquake has reached 3,200 while the number of injured is estimated at 6,500 so far.