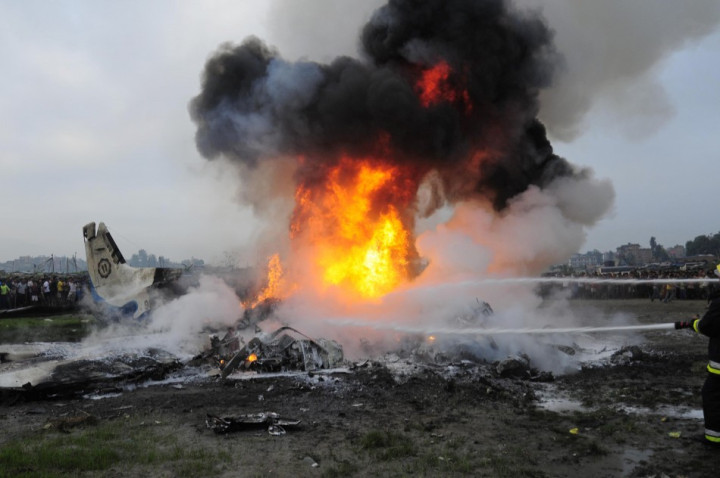 Conflicting reports are emerging from Nepal about the cause of the plane crash which has killed 19 people including seven Britons.
Earlier, the authorities suggested a technical malfunction caused the crash of the twin-propeller Dornier into a river bank just minutes after take-off.
However the general manager of Kathmandu's Tribhuvan International Airport, Ratish Chandra Lal Suman, has told reporters that the Sita Air plane struck a bird, believed to be a vulture.
According to Suman, air traffic control contacted the pilot moments after take-off, to question an unorthodox manoeuvre. The pilot replied saying his front engine had been hit by a bird and had failed.
Air traffic control then reportedly told the pilot to make an emergency landing and start a second engine. However the damaged engine caught fire seconds later.
Although the pilot tried to land the plane in the Monahara River, in the hope of dousing the flames from the engine, he hit an adjacent football field instead.
One eyewitness, Tulasa Pokhrel, told the Daily Telegraph: "I saw the plane was losing control and coming down to our settlement. It was covered by thick black flame. I heard travellers screaming inside the plane and waiving hands in the window.
"The fire brigade came within 10 minutes and started pouring water. Within 40 minutes, the fire was extinguished. All the bodies were charred by the fire totally."
Meanwhile, the full identities of the British victims have been released, following identification by local travel firm Sherpa Adventures.
The victims were Raymond Eagle, Christopher Davey, Vincent Kelly, Darren Kelly, Timothy Oakes, Stephen Holding and Benjamin Ogden. They were aged between 27 and 60.
Sherpa Adventures has also revealed that the British party arrived on 26 September and were flying to Everest, where they were due to embark on a three-week trek.
A number of the British victims booked their package through Explore Worldwide, a travel company based in Farnborough. Ashley Toft, the firm's managing director, said:
"We are devastated by this news. Our thoughts are very much with the families of those affected, both in the UK and in Nepal.
"The basic facts are that Sita Air operates scheduled flights and is approved by airline authorities. The weather was good. The plane was departing for Lukla and our passengers were heading for Everest Base Camp at the start of their trek."
To see footage of the crash site and rescue operation, click the video below.
Nepal Plane Cash: Kathmandu Catastrophe Latest Example of Nepalese Neglect [BLOG]