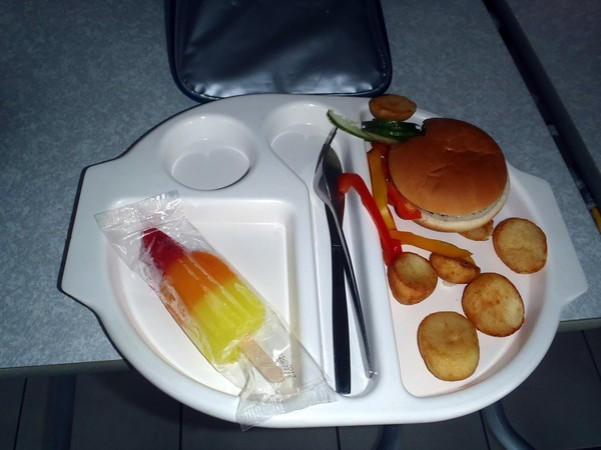 The nine-year-old schoolgirl who became an internet hit after she starting blogging about her school dinners has claimed she has been banned from photographing her meals.
Martha Payne started writing about her school dinners and rating them out of 10 on her Never Seconds blog on 30 April.
The blog received more than two million hits in just a few weeks and raised more than £2,000 for the Mary's Meals charity.
But in a post published on 14 June, Martha claims her school has told to stop taking photographs of her meals, following a complaint from the local Argyll and Bute council because of a headline in a newspaper.
In a post titled Goodbye she wrote: "This morning in maths I got taken out of class by my head teacher and taken to her office. I was told that I could not take any more photos of my school dinners because of a headline in a newspaper today.
"I only write my blog, not newspapers, and I am sad I am no longer allowed to take photos. I will miss sharing and rating my school dinners and I'll miss seeing the dinners you send me too."
Martha's father, Dave Payne, wrote a follow-up explanation in the latest blog post explaining the situation and praised the unnamed school for its support.
He said: "Martha's school have been brilliant and supportive from the beginning and I'd like to thank them all.
"I contacted Argyll and Bute council when Martha told me what happened at school today and they told me it was their decision to ban Martha's photography.
"It is a shame that a blog that today went through 2 million hits, which has inspired debates at home and abroad and raised nearly £2,000 for charity, is forced to end."
Martha's blog gained worldwide recognition, with her last post receiving comments of support as far away as the United States.
She rated each of the school dinners out of 10 for health, price and how many pieces of hair she found.
Argyll and Bute Council released a statement defeding their decison, saying: "Argyll and Bute Council wholly refutes the unwarranted attacks on its schools catering service which culminated in national press headlines which have led catering staff to fear for their jobs.
"The Council has directly avoided any criticism of anyone involved in the 'never seconds' blog for obvious reasons despite a strongly held view that the information presented in it misrepresented the options and choices available to pupils however this escalation means we had to act to protect staff from the distress and harm it was causing.
"In particular, the photographic images uploaded appear to only represent a fraction of the choices available to pupils, so a decision has been made by the council to stop photos being taken in the school canteen.
"There have been discussions between senior council staff and Martha's father however, despite an acknowledgement that the media coverage has produced these unwarranted attacks, he intimated that he would continue with the blog."