Brits have nothing to fear in Brexit talks with EU says JD Wetherspoon chairman
Boss of market-leading pub chain says French winemakers won't tolerate post-Brexit tariffs on the UK.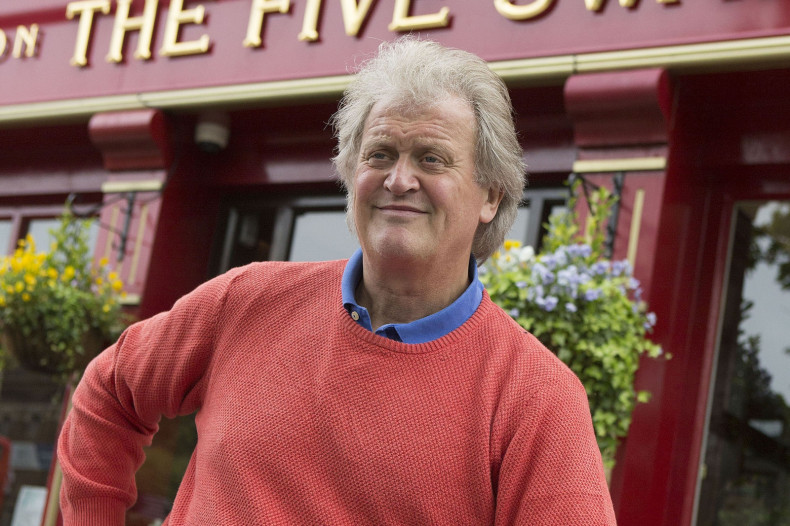 The powerful French winemakers' lobby will not tolerate punitive tariffs being slapped on exports to the UK, should the European Union decide to impose trade barriers in a post-Brexit world, according to Tim Martin, chairman of market leading pub and restaurant chain JD Wetherspoon.
Speaking to IBTimes UK, Martin – a prominent Leave campaigner – says Brits had nothing to fear in their talks with Brussels.
"Speaking from our perspective, we import wines from France and have a first-hand feel of the kind of intense competition French and other European winemakers are facing from non-EU producers.
"Almost all the EU wine we buy; we can substitute. So if we don't buy French wine, we can buy American, South African or Chilean ones."
The company's latest financials pointed to a like-for-like sales rise of 3.4% in the 53 weeks to 24 July 2016, and a pre-tax profit jump of 12.5% to a record £66m ($88m, €78m).
No need for speed in EU talks
The Wetherspoon boss thinks the UK should play it cool and not rush into a deal with the EU at any cost. "We shouldn't agree to a deal with Brussels come whatever. They sell to us twice as much as we sell to them; it'd be foolish to say unelected EU autocrats have the upper hand on us.
"Should talks turn nasty and Brussels adopts a stance of penalising the UK, we should simply play it cool and let World Trade Organization (WTO) norms come into play. Plenty of others want bilateral trade deals with us."
Martin points to the governments of Australia, Canada, China, India and New Zealand, who came forward unprompted after the EU vote expressing a desire to sign trade deals with the UK.
With customary aplomb, the Wetherspoon boss adds: "It'd be good to talk to these guys. If EU shenanigans see tariffs slapped on French wines, and Aussie and Kiwi ones see a removal, our pubs would be the first to pass on a cheaper glass of wine from the New World's best winemakers."
In the meantime, Chancellor Philip Hammond ought to make life "fairer" for the pubs and restaurants trade, which several of his predecessors have failed to do over the past 15 years, Martin adds.
"Tax inequality is what our sector has to contend with every day. When people are buying from us, they are paying 20% VAT, whereas in a supermarket they don't. Moreover, I think the overall availability of very low price beer in supermarkets enabled by this tax inequality has a damaging effect on our industry."
"To Hammond, I would say pubs, coffee shops and restaurants are very important for the future of the economy and they can help revitalise the high street. So if you can help equalise the taxes between pubs and supermarkets, you will help to revive the economy in less affluent areas. That is not just good economics, but is also good politics."
Only as good as the next pint
Despite Weatherspoon posting solid results in recent years, IBTimes UK could not resist asking how the company's shareholders feel about having such an outspoken boss. "You mean what do people think about having a nutter in charge?" he laughs.
"I'd say we're only as good as our next pint. If we deliver returns and run a successful business, as Wetherspoon does, then my blokish personality and plain speaking don't bother anyone. Were that not to be the case, stakeholders' response to me would be quite different, I suspect. Besides, business leaders should be vocal; but that's not to say a recluse couldn't run a successful business."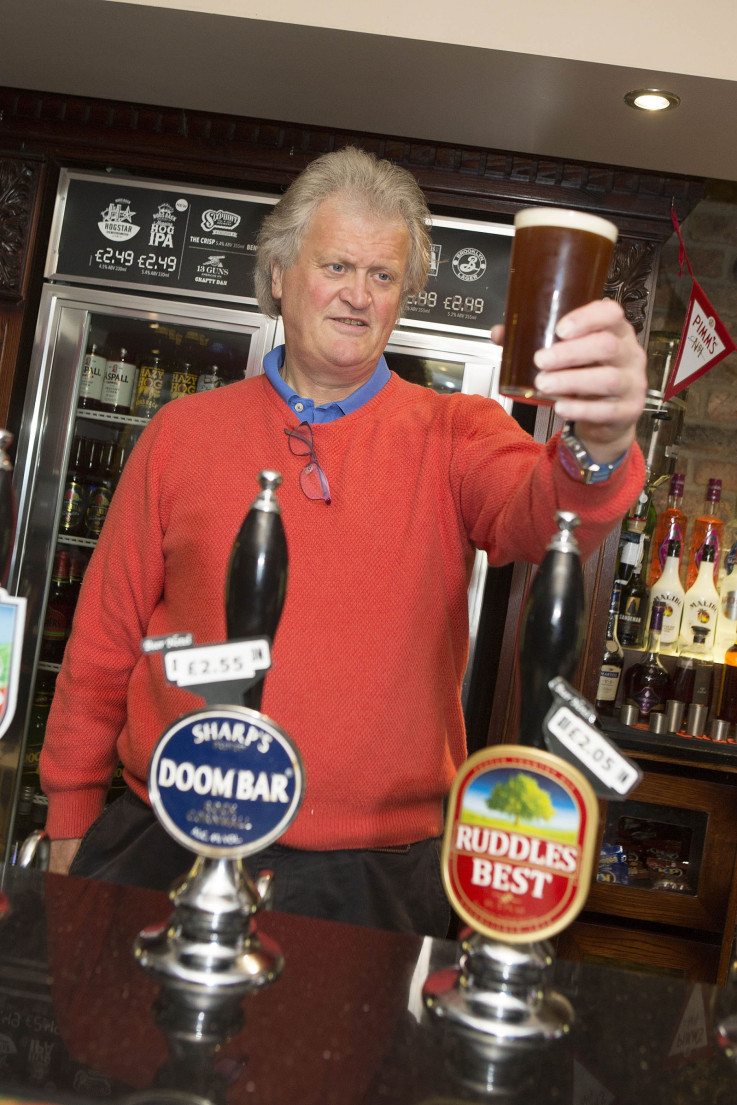 Tim Martin says: "We're only as good as our next pint."
Speaking of pints, what pours out of Wetherspoon's taps beats much if not most of the competition, even in central London, so what's behind the beverage procurement strategy? "I think you've just got to be flexible in your approach to suppliers. We try and trade with people for the long term if we can.
"Conversely, if suppliers know they are going to be dealing with you for five, 10 or 15 years, the economics are better for them if you are a reliable purchaser who's likely to keep ordering in the future."
Martin's message remains upbeat; at the unveiling of the company's results on 9 September, Wetherspoon expressed optimism about post-Brexit opportunities, while rival Greene King has revealed anxieties about the operating climate. The stock market voted by bumping up Wetherspoon shares by 5% and knocking down Greene King's by a near similar margin.
"Perhaps Greene King's worries stem from the fact that they brew and we don't. Or it might well be down to the fact Rooney Anand [chief executive of Greene King] has employed our old finance director! The day that happened Rooney's phone call sounded like he'd stolen my girlfriend, not pinched my finance man," Martin quips, clearly enjoying the market response to proclamations from both companies.
Nonetheless, lower valuation of the pound and potentially lower consumer spending remain a cause for concern. "While I relish the sense of self-reliance Brexit gives us as a nation and as a business, you always have operational anxieties. To quote Woody Allen: 'It's not that I'm frightened, it's just that everyone is after me.' Using the argument that only the paranoid survive, for Wetherspoon it's a question of keeping our service attractive."
Martin is hopeful that the Bank of England's rate cut would put more money in people's pockets as far as consumer spending goes and remains decidedly sanguine about the pound's fortune.
"It is a fact of economics and we can live with those currency fluctuations. I'd take that as a short-term price for exiting the EU, which is becoming an increasing burden on the people who live within its jurisdiction. Just look at the economic woes of Greece, Portugal and Italy."
Accidental Leave campaigner not 'Little Englander'
Despite being a pretty vocal Leave campaigner in the run-up to EU vote, Martin reveals it all happened quite by accident. "I had said in 2015 that I want to see what [former Prime Minister] David Cameron can secure from Brussels. At the time of our March results, having noticed what Cameron had come back with, I simply said what he had secured was not the sort of fundamental reform we were promised and therefore we should leave the EU.
"It was an innocent observation, but Sky News picked it up and called me to discuss it on the telly. I reiterated my take and suddenly there was a snowball effect. So really, you should blame Sky News for setting me loose."
And, of course, once those thoughts were on the airwaves the Little Englander jibes followed. "Yeah, we heard them at the turn of the millennium as well didn't we, during a concerted flawed bid to get us to join the euro. It's a jibe conjured up by an Oxbridge elite who live in bubble detached from the rest of us, and quickly lapped up by those who have no constructive counterarguments to offer and like status quo."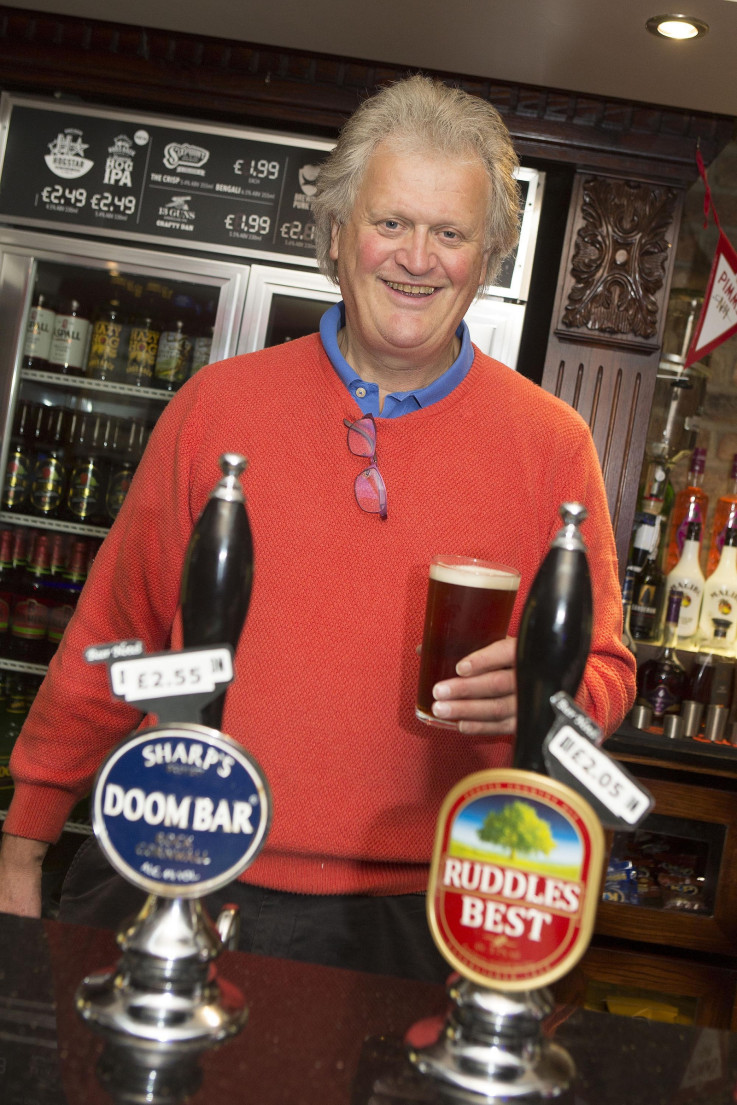 He is no Little Englander, just a cool pub chain operator with a lot to say
Photo: JD Wetherspoon
In particular, Martin recalls a memorable exchange with Michael O'Leary, Ryanair's Irish boss. "He called me a Little Englander, only for me to tell him that I didn't really live in England till I was 19, rather in Ireland. So good luck to those, including Michael, trying to convince people I'm a Little Englander."
That Muswell Hill pub and 900 more
The country's most recognisable pub chain owner started out in the business when he bought one pub in London's Muswell Hill area back in 1979. "It was very different from other pubs in the UK at the time. They were mostly owned by breweries with a restrictive range of beers, while this pub had a distinctive edge with multiple beers which weren't brewed by one brewery."
Today with more than 900 pubs employing 37,000 people and corporate overtures ranging from a strategic calculated foray into small boutique hotels to offering coffee for under a pound, Martin's company led Peach BrandTrack's survey of big restaurant brands, sitting atop Pizza Express and Nando's.
"Neither is our coffee making Costa and Starbucks quake in their boots, nor are we aiming to be a mega hotelier. But it suggests our overtures at trying different things in small doses are working. At the same time, I do not want Wetherspoon to become some sort of a big monolithic chain pub that discards individualism. No one pub is the same and that's a help."
The company is expanding in Ireland, with five pubs under ownership and more to follow. But what about continental Europe? "No plans yet, but the French market looks interesting. When I was 18, I had a French girlfriend. I'm now 61, so I am quite keen to see what she's up to, may be even discuss Brexit in a new Wetherspoon's across the channel."