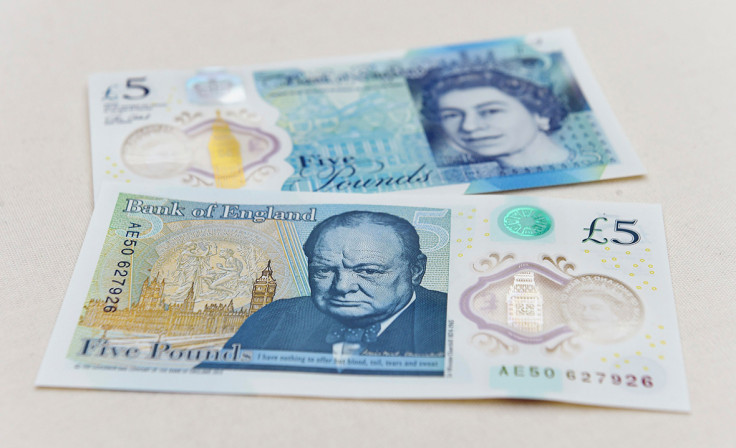 The new £5 note featuring Winston Churchill will be unveiled by the Bank of England (BoE) on Thursday (2 June), with the new banknote set to enter circulation in September this year.
The formal unveiling, set to be held at Blenheim Palace in Oxfordshire, Churchill's ancestral home, will spell the end of paper money after 320 years as the BoE wheels out a series of new plastic polymer notes.
A new £10 note featuring novelist Jane Austen and a new £20 note carrying a picture of artist JMW Turner will be introduced next year and by 2020 respectively, while new notes will be released in Scotland in the autumn.
Polymer notes, which are approximately 15% smaller than the current notes, are manufactured from a transparent plastic film and coated with an ink layer and are designed to last for approximately five years compared with the 18-month shelf life of the current notes.
However, while the new banknotes will be cleaner and harder to counterfeit, the new notes could, at least initially, being prone to stick together, meaning customers could inadvertently hand over more than they intend to.
Polymer notes, which were firs introduced by Australia in 1988, are in use in over 30 countries across the world, including New Zealand, Canada, Fiji and Mexico.
The BoE has indicated that the switch to longer-lasting notes will save approximately £100m, although the move could see shops and banks ending up with a bill of up to £236m as ATMs, vending machines and self-service machines will have to be recalibrated or replaced.
With approximately 329m of £5 notes currently in circulation, the Bank has estimated it will take around 12 months for the Churchill note to replace the current £5 note, which carries a picture of social reformer Elizabeth Fry.
The former Prime Minister, who appeared on the five shilling piece in 1965, will be the first statesman to feature on British banknotes. Churchill will be featured alongside a view of Westminster and a picture of the Nobel Prize for literature, which he was awarded in 1953.
The notes will also feature a picture of Big Ben showing three o'clock – the approximate time when, on 13 May 1940, Churchill told the commons: "I have nothing to offer but blood, toil, tears and sweat."