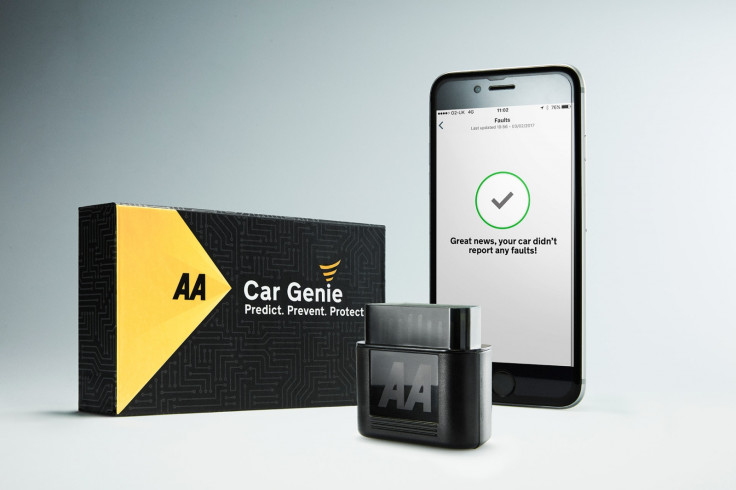 Being stranded in the middle of nowhere in a broken down car is an headache all motorists could do without. A new gadget from the AA aims to cut the amount of time you spend stuck at the side of a road by predicting when your car will break down before it happens.
Car Genie is a plug-in device that connects to a car's diagnostics system and can both monitor the state of the car as well as the owner's driving style, providing feedback on things like speed and braking habits. Real-time information from the car is then sent from the device to the driver's smartphone via the Car Genie app.
The device works by gathering information from the car's on board-diagnostics (OBD) system, a computer system built into cars that allows technicians to diagnose problems with a vehicle's engine, brakes, battery and sensors.
Car Genie and similar devices allow older vehicles to benefit from some of the more modern features enjoyed by connected cars, which frequently come with real-time diagnostics and feedback functionality built directly in.
Once the driver plugs Car Genie into their vehicle's OBD II port – usually found in the driver-side footwell – the device will keep track of their vehicle's health and warn them of any triggered fault codes that could lead to a breakdown. The device shares data with the AA so that it can contact customers directly if any severe problems are detected.
Car Genie also shares the car's location data with the AA so that it can send assistance when it detects a collision, as well as letting owners track their car's whereabouts via the free smartphone app, which is available on iPhone and Android smartphones.
The AA's connected car manager Gareth Adams told The Independent the device could predict up to a third of breakdowns before they happened, based on trials undertaken with the device since April 2016. Feedback provided on driving habits could also help drivers save money on fuel by offering tips on how to drive more efficiently, the AA said.
Car Genie launches on 1 May and is compatible with "most" cars made from 2005 onwards. The device and accompanying service costs £29 ($40, €35) per year and is available exclusively to AA members.