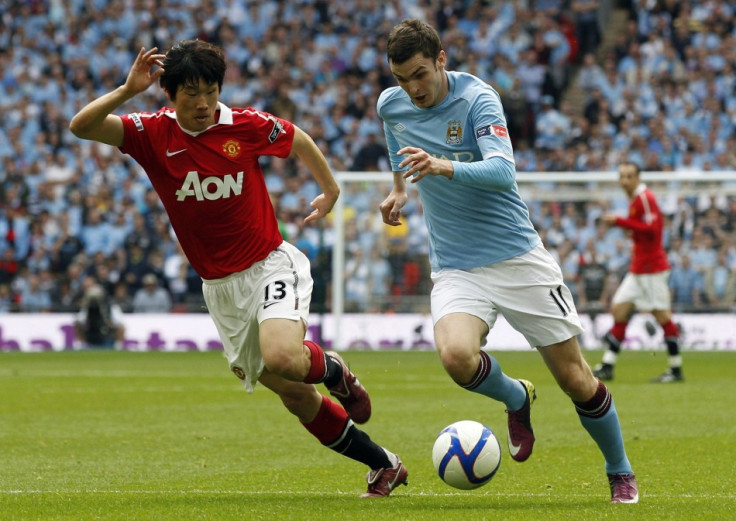 Manchester City winger Adam Johnson has reportedly signed a new long term contract to remain at the Etihad Stadium until 2015.
Skysports.com claim the England international, who had been linked with an unlikely move to Liverpool and Sunderland during the summer, had been in discussions with Manchester City for a number of months despite having two-and-half years remaining on his previous deal.
Johnson has played over 50 times for Manchester City since joining the club in January 2010 from Middlesbrough, and whilst he has occasionally aired his frustrations over a lack of starts due to the squad rotation system currently in place under Roberto Mancini, the 24-year-old has gradually established himself for club and country.
The talented star recently revealed his devastation at missing out on a place at the 2010 World Cup Finals in South Africa and admitted he was desperate to make amends by being selected in Fabio Capello's squad for the 2012 European Championships.
"Missing out on the World Cup was devastating for me. I can't not go to Euro 2012 as well," Johnson said last week.
According to various reports Johnson new deal is worth a reputed £80,000 a week, double the amount of his previous contract and a worthy reflection of his form this season.
Mancini and Johnson's relationship has at times appeared strained, with the Italian tactician quick to publicly question the young winger's appetite.
The Manchester City manager is inevitably trying to make the former Middlesbrough prodigy a better player, and has championed Johnson's potential to become one of the best wingers in the Premier League.
"Sometimes he thinks: 'Okay in this game I scored one goal, I did an assist, that is enough'." Mancini said last month.
"I think Adam, because he is young can improve a lot. He needs to think in a different way.
"He needs to think: 'I scored one goal, I did one assist, I should continue because I want to score another goal and another assist, and run back to defend'.
"He can do this if he wants. My opinion is this, he has everything to become one of the top wingers."
Mancini added: "Adam is young, he is in his third season in the Premier League. I am disappointed when he doesn't put everything on the pitch.
"Adam is the only one winger we have in the team.
"He cannot play every three days, it is impossible, but if he wants to improve, he can have a lot of chances to play."