With the emissions cheat scandal still in the public's minds, Volkswagen is seeking to make amends at the LA Auto Show this week with the launch of the new e-Golf.
Almost visually identical to its petrol- and diesel-powered stablemates, the 2017 e-Golf has a 50% greater average driving range than its predecessor, up to 300km (187 miles) on European Driving Cycle and 125 miles on the US standard.
These figures fall short of the upcoming Chevrolet Bolt and Tesla Model 3 (each with over 200 miles on the US scale), but the Golf's decades-old appeal could help it sell to customers wanting an electric car that doesn't look like one.
The car, along with the rest of the 2017 Golf range, is the first in its category to feature gesture control as standard. Previously seen as an optional extra on the BMW 7-Series luxury limo, the Golf's infotainment system can be controlled with a wave of the driver's hand. Hand swipes can be used to navigate through menus, change radio stations or browse through the driver's music library.
The system can also be controlled via the standard (and huge) 9.2in touchscreen. A second 12.3in screen sits behind the steering wheel, completely replacing analogue dials with a customisable interface.
A smartphone application for iOS and Android can be used to remotely check battery level, start/stop charging and adjust the climate control before you get in. VW says the battery can be charged to 80% from a high-speed public charger in an hour, or from empty to 100% from a charger installed at home in six hours, making overnight charging a realistic option.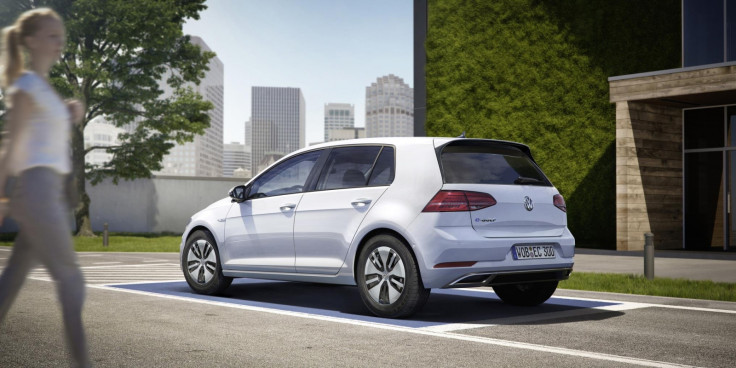 VW has upped the e-Golf's battery capacity from 24.2kWh to 35.8kWh, while power has been increased by 15kW to 100kW, lowering the 0-60mph sprint from 10.4 seconds to 9.6. This may not seem particularly fast, but electric cars are always at their quickest below this speed, so expect in-town performance to feel surprisingly brisk despite the leisurely 0-60. Maximum torque is also up from 270 newton metres to 290.
Autonomous driving features include the ability to partially drive itself in traffic (below 60km/h or 38mph), monitor for pedestrians who may walk into its path, perform emergency stops from low speeds and stop the car if it senses the driver is having a medical emergency.
VW is yet to announce when the e-Golf will go on sale, in which markets it will be available, or how much it will cost.