The new Alfa Romeo Stelvio is one of the stars at this year's Los Angeles Auto Show. It is the company's first sports utility vehicle and, in the Quadrifoglio specification seen here, one of the fastest ever made.
Already being dubbed as the Ferrari of SUVs, the Stelvio is named after one of Italy's most famous mountain passes. The Quadrifoglio version is fitted with a 2.9 litre, twin-turbo V6 engine which is related to the V8s currently used by Ferrari in the 488 and California T; this is mated to an eight-speed automatic gearbox which can change gear in a supercar-like 150 milliseconds.

The sprint to 60mph is dealt with in 3.9 seconds. Only the Porsche Cayenne Turbo S and Tesla Model X can accelerate quicker, while Alfa claims its simulations show the Stelvio Quadrifoglio will lap the 13-mile Nurburgring faster than any SUV has before.
The flagship model features aggressive sports car styling, carbon ceramic brakes (remember when they were a £10,000 option from Ferrari?) and carbon detailing.
An intelligent all-wheel-drive system sends all power to the rear wheels by default, but up to 50% to the front when necessary; torque vectoring splits power between left and right wheels to aid cornering and make the Stelvio drive like a rear-wheel-drive sports car most of the time. Extensive use of aluminium and 50/50 weight distribution ensure the Stelvio will be as dynamic to drive as its looks suggest.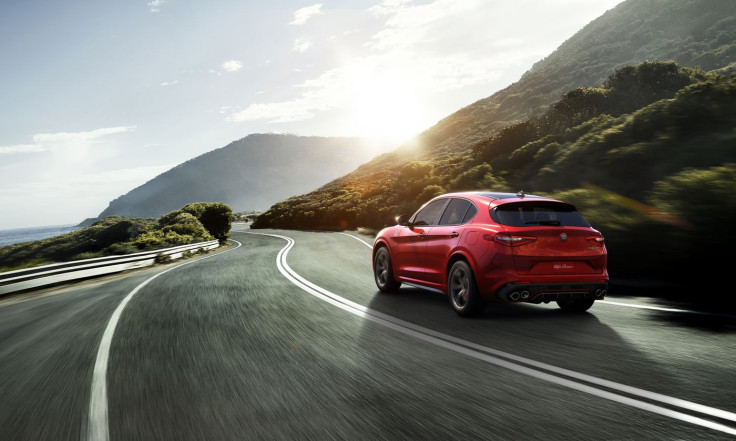 Reid Bigland, CEO of Alfa Romeo and Maserati, said at the car's launch: "The reason people will buy our mid-sized SUV is because they will be blown away by the driving dynamics. Every car Alfa makes must stand apart for that reason, and this car will not disappoint...we have leveraged Ferrari to help deliver class-leading power and it will also come with Alfa Romeo's Q4 all-wheel drive system."
A tamer version of the Stelvio will be powered by a two-litre turbo petrol engine producing 280 horsepower, with less powerful petrol and diesel engines also in the pipeline, although it is not yet clear if they will all come to the UK. What we do know is the Stelvio will start at £35,000 when it arrives on our shores in 2017. At this level it will look to compete with the similarly sized Porsche Macan.