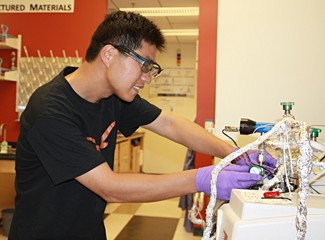 Platinum, a rare and expensive metal, is currently used in diesel engines to try to control the amount of pollution released into the air. Scientists have now developed a new material that is much more effective than platinum in reducing pollution.
University of Texas at Dallas scientists have found that oxide mullite could reduce pollution up to 45 percent compared to platinum crystals. They claim that mullite is less expensive to produce compared to platinum crystals.
"Many pollution control and renewable-energy applications require precious metals that are limited - there isn't enough platinum to supply the millions and millions of automobiles driven in the world," said Dr Kyeongjae "K J" Cho, professor at the University of Texas. "Mullite is not only easier to produce than platinum, but also better at reducing pollution in diesel engines."
Diesel engines give higher fuel efficiency compared to gasoline but produce more nitric oxide (NO) and nitrogen dioxide (NO2), which are quite harmful to human health.
Recently, the World Health Organisation upgraded the classification of diesel engine exhaust as carcinogenic in humans, putting it in the same category as cigarette smoke and asbestos. Countries throughout the world have drafted guidelines to reduce diesel air pollution in the next decade.
The new material developed by scientists could be a new cheap and effective way to reduce pollution.
The discovery was made while analysing the chemical components of mullite. The team used advanced computer modelling techniques to analyse how different forms of the mineral interacted with oxygen and NOx.
The study revealed that the oxide mullite reduces pollution up to 45 percent compared to platinum crystals.
"Our goal to move completely away from precious metals and replace them with oxides that can be seen commonly in the environment has been achieved," Dr Cho said. "We've found new possibilities to create renewable, clean energy technology by designing new functional materials without being limited by the supply of precious metals."