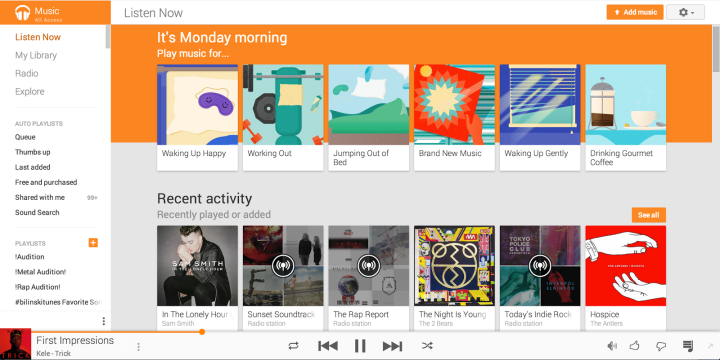 Google has released an update to its official Google Play Music app, which makes it easy to enjoy the best music depending on your mood, via customised music stations from Songza.
The USP of the update is that, it brings the Android L-like 'Material Design' to the Google Play Music application.
Apart from Material Design, the app now offers music stations customised according to your current mood.
Google has integrated with Songza ( a company that the online giant acquired earlier in the year), and automatically streams songs chosen (based on your mood) by the company's expert music team.
To enjoy the functionality, you need to be a subscriber to Google Play Music.
All you need to do is choose an activity (could be your current activity as well), and Google will prompt you to play a specified music for a particular time of day, mood or activity.
Based on the chosen activity , you will receive options for several music stations.
"Choose an activity to get options for several music stations to make whatever you're doing even better—whether it's a station for a morning workout, songs to relieve stress during traffic, or the right mix for cooking with friends. Each station has been handcrafted—song by song—by our team of music experts (dozens of DJs, musicians, music critics and ethnomusicologists) to give you the exact right song for the moment," states Google, in an official blog post.
In line with the 'customised music station' feature, Google has also redesigned the 'Listen Now' page within the Google Play Music service which makes it easier to find/explore new music.
You should also get to see customised cards that contain links to all music that you have played recently.
The cards also embed within, new releases that Google feels you might be interested in, and radio stations that are displayed based on your selected preferences.
Music stations can also be downloaded onto your devices, and you can listen to music even when offline.
"You can start a new station based on any song in the mix. You can also search for a particular station you want or activity you want to find music for," adds Google.
With Material Design an integral part of the new update, users should now notice bigger images, bolder colours and slick transitions.
Users get to choose from over 30 million songs, and the redesigned 'Listen Now' page is available to users across countries where Google Play Music is available.
However, the 'Activity-based Music Stations' are currently available to Google Play Music subscribers in the US and Canada across both Android and iOS mobile platforms.
'Activity-based Music stations' will be made available to customers across other countries, shortly.