A young boy was still in a a coma after he fell from a bouncy castle as it was torn from its moorings by strong winds and flew into the sky and he crashed to the ground.
Another boy was in stable condition.
The boys, aged five and sex, and a girl aged 10, were playing in a roofless playhouse in South Glens Falls, New York, when it broke loose from its plastic anchoring stakes.
The girl dropped out immediately and suffered minor scrapes but the boys did not fall out until the toy was 15ft in the air.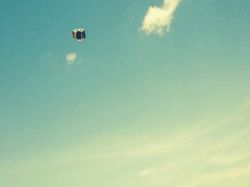 Police told Glens Falls Post Star that one of the boys hit a parked car and bounced on to the pavement. He suffered a serious head injury.
The other boy suffered two broken arms, a broken jaw, broken facial orbital bone and possible ruptured spleen. Both victims were airlifted to Albany Medical Center.
Police chief Kevin Judd said an investigation was continuing but no charges would be brought against the homeowner. He called it a "tragic accident".
"It was like a horror movie," resident Taylor Seymour said. "It just kept going up and up. It cleared our building and the trees."
The castle flew 50ft up.