An unborn baby made a miraculous survival after both his parents were killed in a car crash on the way to the hospital.
Nachman and Raizy Glauber, both aged 21, were expecting their first child in May.
However, their car crashed in the Williamsburg area of Brooklyn as the couple made their way to hospital on Sunday - Raizy had not been feeling well on Saturday so they had decided to go for a check-up the following day.
The couple's taxi crashed two blocks from Raizy's parents. The car's engine ended up in the backseat where the pregnant woman had been sitting.
She was ejected from the vehicle and thrown under a parked tractor-trailer. Nachman was pinned inside the car and emergency services had to cut the roof from the car to get him out. Their driver was treated for minor injuries.
Police are currently searching for the driver of a BMW and another passenger who fled the crash site. The BMW had been speeding when it smashed into the couple's taxi.
The Glauber's were both pronounced dead in hospital but doctors managed to save the baby's life by performing an emergency caesarean section.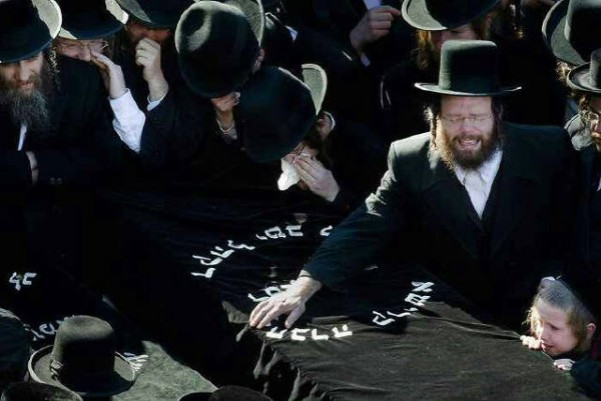 The baby boy was in a serious condition, weighing just four pounds after being born two months premature.
The Glauber's got married last year and had settled down in Williamsburg, where Raizy grew up in an Orthodox Jewish community.
Jewish law calls for the burial of the dead as soon as possible and hours after they died, around 1,000 mourners attended a funeral outside the Congregation Yetev Lev D'Satmar synagogue.
Nachman's cousin Sarah Gluck told the New York Post: "It's not just the day the baby's going to celebrate his first birthday, it's the day his parents died.
"They (Raizy and Nachman) were always glowing. They were just starting out with their life, building a family. They were very excited. That's what makes it so tragic."
They baby will be named Nachman after his father, Gluck said. "Everybody wants the baby,'' she added. "The baby's going to get a lot of love from everyone."
A woman who had co-signed the BMW's lease was charged with insurance fraud last night. Takia Walker was not the driver of the car, but she is thought to have acquired the car under false pretence and lent it to a third party, who was not insured to drive it.