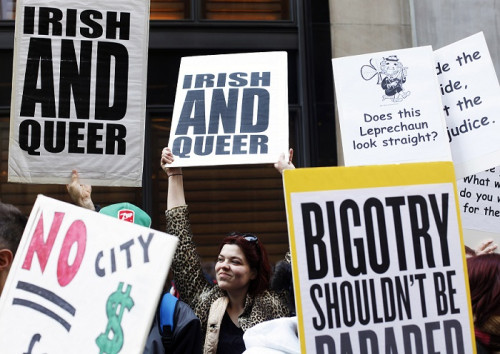 New York Mayor Bill De Blasio has announced he will not be taking part in the St Patrick's Day parade in protest at its exclusion of openly gay participants.
De Blasio looks set to become the first mayor of New York not to participate in the world-famous parade down Fifth Avenue for 20 years, due to the organisers' ban on marchers carrying gay pride banners.
He told a press conference: "No, I am not planning on marching in the parade.
"I will be participating in a number of other events to honour the Irish heritage of this city, but I simply disagree with the organisers of that parade."
The event's ban on pro-gay signs has seen the creation of an alternative, gay-friendly St. Patrick's Day parade in the borough of Queens. De Blasio previously boycotted the official parade when he was public advocate to attend the alternative procession.
The last mayor not to take part in the annual St Patrick's day parade was David N. Dinkins, who boycotted the celebrations in 1993 following a court's decision to exclude a group of openly gay participants.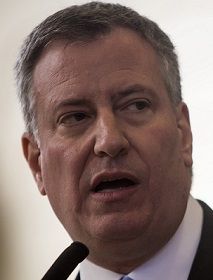 City Councillor Eric Ulrich said it is "unfortunate and disappointing" De Blasio will not be taking part in this year's parade on 17 March.
"I am hoping Mayor De Blasio will reconsider his decision and participate in one of New York's most time-honoured traditions," he said.
However, those in the LGBT community have praised De Blasio for his "strong stand against discrimination".
Queens City Councilman Jimmy Van Bramer, who is openly gay and was arrested for marching in the parade with a gay-pride banner in 2000, told NY Daily News: "I find it offensive that the parade takes a formal and hard line that I can't participate. That literally shuts out huge portions of our city."
Blasio added he thinks city workers should be free to wear their uniforms in the march.
"I believe uniformed city workers have a right to participate if they choose to, and I respect that right," he said.
The parade, which pre-dates the creation of modern-day New York, draws more than one million people to the streets to watch more than 200,000 people take part.