New York mayor Bill de Blasio has reportedly warned incoming president Donald Trump against his immigration policies, saying they would not work in "the ultimate city of immigrants". The mayor also told the president-elect during a recent meeting at the Trump Tower that New Yorkers, who generously voted for Hillary Clinton, are fearful of the new White House administration.
Soon after winning the US presidential election on 8 November, Trump reiterated his stance against migrants and vowed to either deport all the estimated three million illegal immigrants with criminal records or jail them.
But many political leaders and administrators across the country have expressed concerns over Trump's plans, including de Blasio and the mayors of Los Angeles, San Francisco, Chicago, Boston, Philadelphia and Washington DC. All of them have reportedly vowed to protect their immigrant residents from deportation.
De Blasio, a liberal Democrat, met the Republican at the Trump Tower on Wednesday (16 November). During the hour-long meeting, which he termed "respectful" and "candid", the mayor told Trump that he has vowed to delete the names of undocumented workers from their city database to prevent them from any adverse action by the new administration.
"I reiterated to him that this city and so many cities around the country will do all we can to protect our residents and to make sure that families are not torn apart," the BBC quoted the mayor as telling reporters following the meeting.
The mayor also told Trump that New York, which has close to three times the national average of foreign-born citizens, "has succeeded because it was open for everyone, the place built of generation after generation of immigrants".
The mayor reportedly also discussed other issues with the president-elect, including taxation, banking and policing.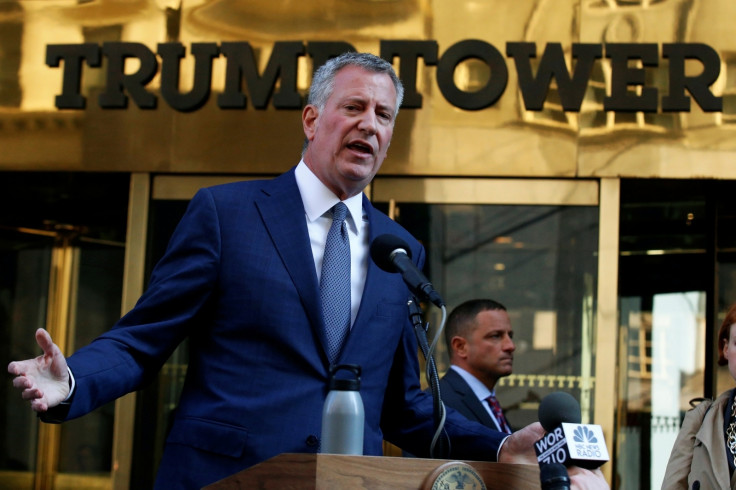 Without commenting on how Trump responded to his concerns, de Blasio only said: "The ball's in his court. People in the city and all over the country are looking to see what he's going to do."
On whether he felt more hopeful following the meeting with Trump, the mayor said it was too soon to tell. "We have to see how things proceed," The New York Times quoted de Blasio as saying.
The mayor added that he also expressed "deep concerns" about the appointment of Stephen Bannon of Breitbart News Network as White House chief strategist.
"I thought many people were afraid because of the things they had seen in Breitbart News and the fear they had that that suggested divisive policies," de Blasio, whom Trump had once tagged "the worst mayor in the history of New York City", said.