Thousands of demonstrators gathered outside Auckland's Sky City Convention Centre in New Zealand on 4 February, to protest against the signing of one of the biggest trade deals in history.
The Trans-Pacific Partnership (TPP) involves 12 countries who are aiming to deepen economic ties, cutting down on tariffs and cultivating trade to advance their growth. The countries involved in the deal are Japan, Vietnam, New Zealand, Australia, Singapore, Mexico, Canada, Peru, Brunei, Chile, the United States and Malaysia, all of whom say that they to want to break down trade and investment barriers between countries, who collectively control 40% of the global economy.
Yet although the deal is aimed at liberalising trade across the countries, not all of the industries and sectors involved will benefit as much as others. For instance, labour groups are concerned that the deal would result in jobs leaving developed economies such as the US and being sent to countries with lower wages and less strict labour laws. There is also the risk that it will cost jobs and impact the supremacy of the Asia-Pacific countries.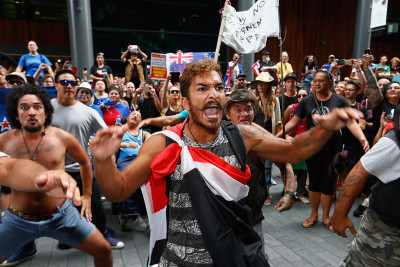 The trade deal was signed at the Sky City centre in Auckland while campaigners protested outside, holding banners with "people before profit" and "citizens stand together to end corporate power", claiming that the deal was made under secretive negotiations in which governments were said to be seeking to bring in the changes without voters' knowledge.
The signing saw trade representatives including New Zealand's trade minister Todd McClay, Japan's state minister of cabinet office Shuichi Takatori, Australia's trade minister Andrew Robb and US trade representative Mike Froman attend the ceremony. Australia's minister for trade Andrew Robb was the first to sign the pact.