A new magma chamber appears to be forming beneath New Zealand's Bay of Plenty – one of the world's most volcanically active regions. Researchers say long-term uplift along the Bay of Plenty coast points to the continuous accumulation of magma, a find that emphasises the need for better understanding of the geological processes involved so hazard assessments can be improved.
The potential magma chamber is located in the Taupo Volcanic Zone (TVZ). Scientists from New Zealand's GNS Science used satellite and GPS data dating back to the 1950s to look at uplift just outside the active region of the TVZ. This area has not seen a volcanic eruption for several hundred years.
Published in Science Advances, the team said the uplift was consistent with the inflation of a magmatic body at a depth of roughly 9.5km. The researchers also noted there was a period of increased inflation between 2003 and 2011. This correlates with a period of increased seismic activity, which took place between 2005 and 2009.
The magma appears to be accumulating and intruding into the continental crust, potentially posing a seismic risk as it makes the surrounding rocks deform. "We suggest that long-term uplift along the Bay of Plenty coast is the result of the continuous intrusion of magma at depth and that the occurrence of frequent earthquake swarms in the region is in response to periodic increases in melt supply, like that observed between 2005 and 2011," they wrote.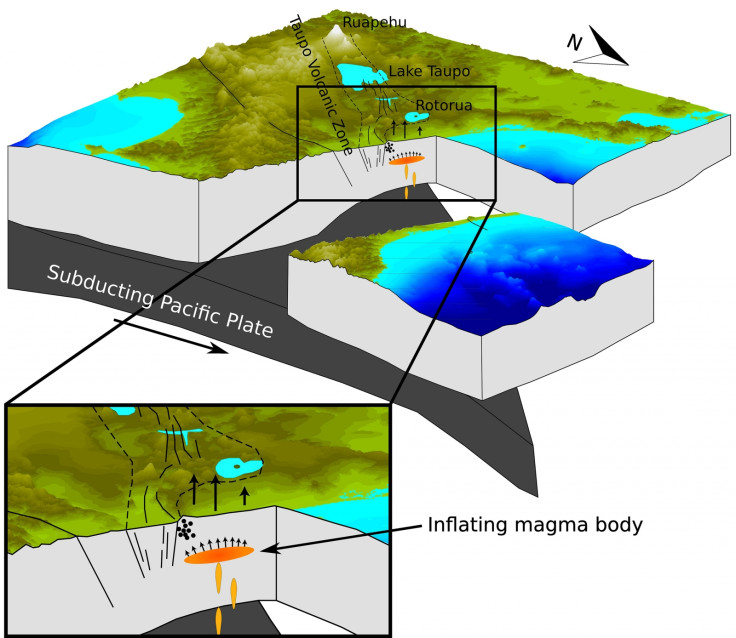 Researchers said continuous monitoring will allow them to identify any "pulses of inflation" that take place in the future, possibly helping them predict earthquake swarms in the area.
"The city of Tauranga is located only 50km to the west of the activity, emphasising the need to better understand rifting processes in the region for improved volcanic and seismic hazard assessment.
"Although the ultimate fate of the magma remains unclear, its presence may represent the birth of a new magma chamber on the margins of arguably the world's most active region of silicic volcanism, which has witnessed 25 caldera-forming eruptions over the last 1.6 million years," the researchers concluded.