China has banned the sale of a dairy product made by New Zealand's Westland Milk Products after tests revealed it contained higher-than-permitted nitrate levels.
The action has raised doubts about the quality of dairy products coming from the world's leading dairy exporter - New Zealand. Earlier this month, Chinese officials ordered the recall of products supplied by rival firm Fonterra owing to a contaminated-milk scare.
China's quality watchdog ordered local firms to halt all imports of the contaminated product - lactoferrin - from Westland. It has also asked other New Zealand dairy companies supplying the same to release nitrate test reports.
The General Administration of Quality Supervision, Inspection and Quarantine also asked the New Zealand government to ensure the safety of dairy products exported to China, New Zealand's top dairy market [Figure 1].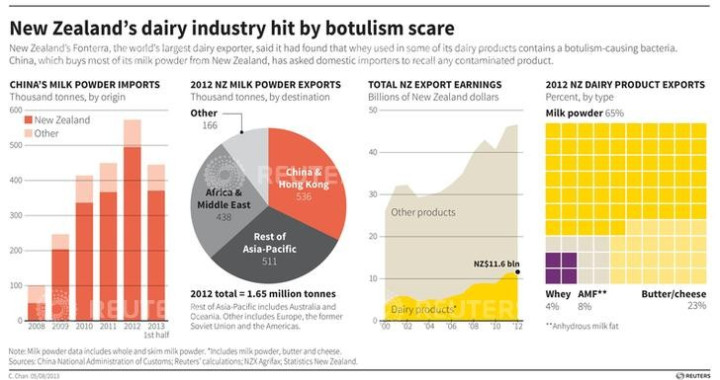 In response, New Zealand's agricultural regulator on Monday cancelled the export certificates for four China-bound consignments of lactoferrin produced by Westland
Two of the four batches shipped had not yet hit the retail markets, according to New Zealand's Ministry of Primary Industries (MPI). The two batches contained nitrate levels of 610 and 2,198 parts per million respectively. New Zealand has permitted the maximum limit for nitrates as 150 parts per million.
Westland "immediately initiated a process to find and quarantine all of the product and it has been put on hold," said Chief Executive Rod Quin in a statement.
"Any food safety risk to Chinese consumers is negligible because the quantities of lactoferrin used in consumer products was very small, meaning the nitrate levels in those products would easily be within acceptable levels," Scott Gallacher, the acting director-general of the MPI, said in a statement.
Westland is New Zealand's second largest dairy cooperative after Fonterra.
Last week, Fonterra announced that the head of its New Zealand milk products business Gary Romano resigned with immediate effect, in the wake of a contaminated milk scandal that rocked the firm.
On 3 August, Fonterra said that it had found that an ingredient in some of its products contained a strain of bacteria that can cause botulism, a disease which leads to severe food poisoning. The contamination scare triggered product recalls in several important markets such as China.
Westland manufactures about 120,000 tonnes of dairy products a year and exports most of it. By comparison, Fonterra exports 2.5 million tonnes of product.
ANZ agricultural economist Con Williams said that the 390 kgs of contaminated lactoferrin was much smaller than the 38 tonnes of contaminated product made by Fonterra. As a result, he expected the latest ban to have a limited impact on the global demand for New Zealand's dairy products.