A bouncer has been shot in a drive-by shooting in Newcastle on Saturday, 6 June, in a day marred by violence across the city.
Earlier in the day a 19-year-old man was stabbed in Newcastle's Eldon Square and, in a unconnected case, a man's body was discovered in the city's Fawdon area.
The doorman, aged 24, said by local people to be called Matthew, was shot on the door of the Tup Tup Palace at around 10.30pm on Saturday night (6 June).
According to eye witnesses a black-clad motorcyclist shot him before driving away. The bouncer was seen walking to a waiting ambulance with a bloody shirt hanging from his belt and taken to hospital, but his injuries are not thought to be life-threatening.
A spokesman for Northumbria Police said: "Police are appealing for information after a man was shot in Newcastle City Centre.
"The incident happened at 10.30pm yesterday evening outside Tup Tup Palace in Saint Nicholas Street. Police attended after a report that a member of door staff at the premises had been injured.
"It has been established a firearm was discharged by a person travelling on a motorbike which then made off. The man, aged 24, has been taken to hospital for treatment. The extent of his injuries are not known at this stage."
Earlier in the day a man's body was found in the Fawdon area.
The man, who has not yet been identified, was wearing one shoe, blue jogging pants, a cream coloured tracksuit top and no socks.
A resident described how he saw a young man pushing another man in a pram who he thought at the time was unconscious. He noticed that the man in the pram had only one shoe on.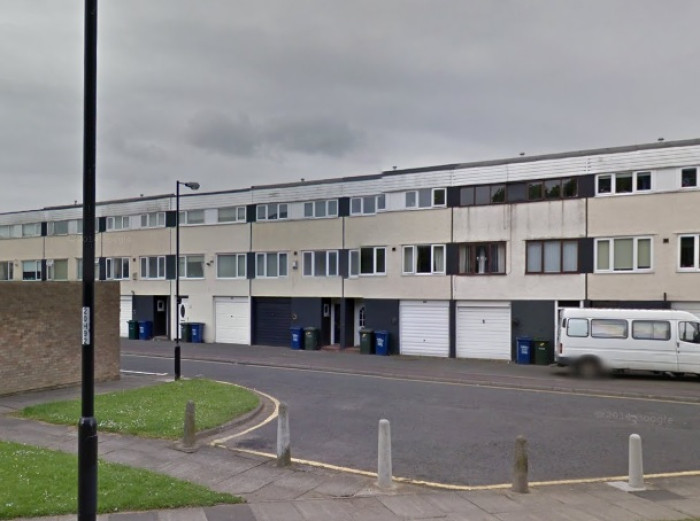 Also on Saturday, a 17-year-old youth was arrested on suspicion of stabbing with intent after a 19-year-old was stabbed in the city's Eldon Square. He is in hospital with non-life-threatening injuries.
According to most statistical indicators Newcastle's crime rate is average for a major UK city, but following the day of violence residents took to social media to express their concerns.
On a local website Lesley Brown said: "Police cutbacks… and all this violence going on. Something needs to be done. I wont let my children out."
On Twitter Jordann Hailess said: "Newcastle's going into crisis like, dead body found, stabbings and now a bouncers been shot outside Tup Tup! Something needs to be done."
Massive policing cuts
Earlier in the week a National Audit Office (NAO) report confirmed that funding for Northumbria Police, the force responsible for policing Newcastle, has been cut by 23% over the past five years: the highest cuts in police force budgets across the UK.
It must make £121m in budget cuts by 2016/17 financial year.
UK police forces' funding comes from central government grants and the police precept charge on council tax bills.
All UK police forces have face central government funding cuts of between 20%-25%, but the amount of monies that the police precept brings in varies.
Around 85% of Northumbria Police's funding comes from central government, and only 15% from the police precept, compared to Surrey Police which receives 54% of its funding from the police precept.
The NAO report described the cuts as unfair: "The Department should build upon its ongoing review of the funding formula and adopt an approach to funding that takes account of forces' local circumstances more fairly."
Ron Hogg, Durham Constabulary's Police and Crime Commissioner, told Chronicle Live: "Those forces that have had traditionally low levels of council tax are suffering now from this blunt cut across all forces. It has a disproportionate impact on forces across the country.
"It needs to change.
"We are continuing to lose officers. In 2010, we had 1,510 officers. We are now down to 1,200 and it's likely we'll have to go down to 1,050 officers."