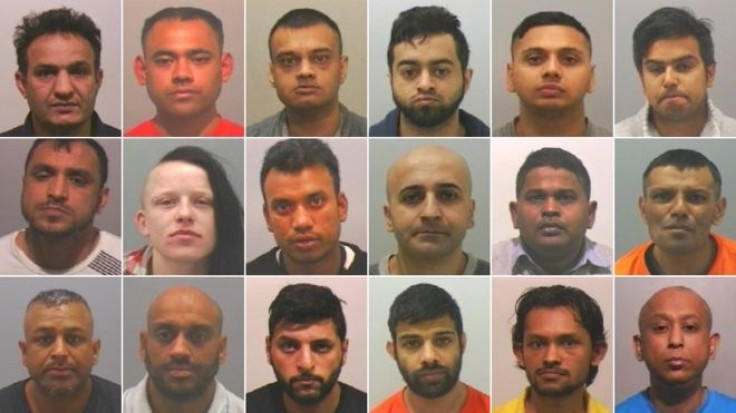 A grooming gang in Newcastle has been convicted of plying girls as young as 15 with alcohol and drugs before then forcing them into sexual intercourse.
The victims – all females between the ages of 15 and 25 – were often from a troubled background. At least one was in care.
Four separate trials over two years saw the gang – seventeen men and one woman – convicted of offences including rape, human trafficking, inciting prostitution and drug supply between 2010 and 2014.
It also emerged during court hearings that Northumbria Police paid a convicted child rapist £10,000 to act as an informant for almost two years during the investigation.
The NSPCC described the revelation as "appalling", adding: "You just couldn't make it up."
Jurors heard during the trials how the gang befriended more than 20 victims through social media or other friends, and invited them to "sessions" at properties, mostly in the west end of Newcastle.
They were lured to the parties with the promise of alcohol or drugs, including mephedrone, cannabis and cocaine, and would be expected to have sex with men in return.
Some young women were drugged before waking up to find themselves undressed, having been sexually assaulted. Some awoke in a daze to find themselves being raped.
The prosecution said the girls were targeted as they were "less likely to complain because of their circumstances".
The members of the gang were arrested as part of Operation Shelter, an investigation that formed part of a Northumbria Police's wider probe into the sexual exploitation of children and adults with vulnerabilities, known as Operation Sanctuary.
Officers have so far identified more than 100 potential victims under Operation Shelter.
The Newcastle case has stark similarities to other grooming scandals in Rotherham and Rochdale, which saw gangs of British Asian men abusing mainly white girls.
The convicted men are mostly aged in their 30s and 40s and are from a wide range of backgrounds, including from Bangladesh, Pakistan, India, Iraq, Iran and Turkey.
Some of the men convicted over the grooming were related or had been friends since childhood.
During the trials a court heard how Northumbria Police paid a convicted child rapist around £10,000 over 21 months to spy on the network of men.
This included having the man – described by a judge as "inherently unreliable" – attend parties where victims were suspected of being abused.
NSPCC lead expert on tackling child sexual abuse, Jon Brown, said: "We are appalled to learn that police paid a child rapist and planted him in the midst of vulnerable young girls. You just couldn't make it up.
"It beggars belief that it would ever have been considered, let alone approved, and serious questions must be asked about the force's approach to child sexual exploitation operations.
"However good the force's intentions, their misguided actions run entirely counter to all current child protection procedures and what we know about sex offenders and could have compromised this investigation.
"What we mustn't forget in all this is the victims who were preyed on by a series of despicable men for their own sexual gratification. It is right that these men are now behind bars."
Northumbria Police defended the use of the informant, known only as "XY", and said a subsequent investigation by the IPCC over his role in the operation found no misconduct.
"He was a convicted rapist and to some of us the thought of the police engaging with such a person and paying them for information may appear repugnant, however he proved he was in a position whereby he could, and did, alert police to situations which allowed them to prevent offending and provide safeguarding measures towards potential victims," Chief Constable Steve Ashman said.
He added: "The sexual exploitation of vulnerable people is in my opinion the challenge of our generation. It is a huge task that we are faced with. To date Operation Sanctuary has been the most complex investigation in this forces' history and has not stopped. There is a wider debate to be had as to how this is to be tackled moving forward.
"Firstly, for this challenge to be overcome there needs to be a high likelihood that offenders will be caught and victims supported. I am confident that we are getting this right, we will never stop pursuing those responsible, and we will throw everything we can at them and we will catch them.
"Secondly, we need a heavy sanction that acts as a clear deterrent and to deliver punishment to those vile individuals that prey on the vulnerable.
"Thirdly, and most importantly, it has to become socially unacceptable in every community to behave in this way. Given the number of men that we have arrested 461 in total, clearly somewhere along the line something has gone wrong if it has become acceptable) to entice, through alcohol, drugs or just through bullying and violence, vulnerable people into sex.
"This behaviour can never be tolerated."