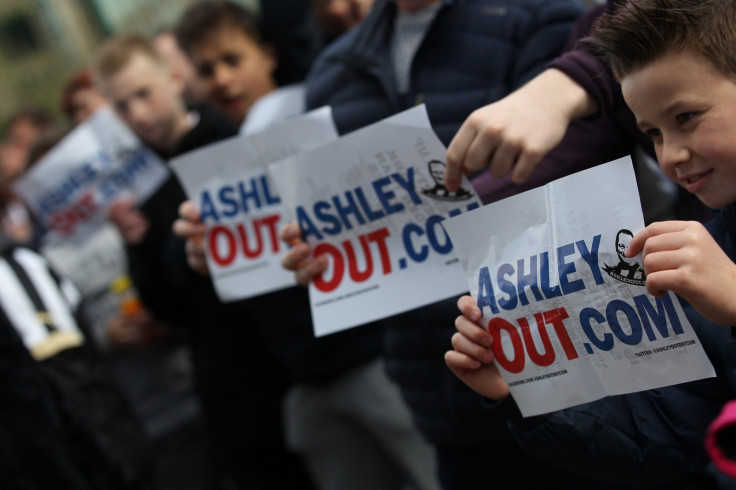 Newcastle United supporters protesting Mike Ashley's ownership of the club will ramp up their efforts in their "long and sustained campaign" against the current regime in the remaining weeks of the Premier League season.
Large pockets of empty seats were dotted around St James' Park during Saturday's 3-2 defeat to Swansea City as supporters behind the Ashley Out campaign continued their boycott.
Those who were in attendance stood en masse on the 34th minute of the game as part of the "Stand Up to Ashley" protest also organised by the group, a nod towards Newcastle's recent revelation that they have £34m sat in the bank despite the widely perceived lack of investment in the squad.
Ashley Out also urged fans to protest at Sports Direct stores across the north-east and at a branch on Oxford Street in London ahead of the match.
Speaking ahead of Saturday's game, a spokesman from Ashley Out told IBTimes UK the group will continue to step up their efforts and hope next week's televised clash with Leicester City on BT Sport will allow them to amplify their message of discontent.
Large-scale protests to come
"This will be a long and sustained campaign and action will continue until Mike Ashley is no longer the owner of the club. Larger scale protests will be focused on games which are televised live on Sky Sports or BT Sport for maximum impact."
Ashley Out will announce what action will be taken during the club's remaining four games of the season on a "game-by-game basis" and remain determined to send a message to the owner.
"This is the accumulation of various failings by Mike Ashley and a time comes where enough is enough and apathy can no longer reign supreme. The club is disengaged from the community and the city that it should thrive from. It is time together to unite our support and send a clear message to Mike Ashley that his time is up."
Game boycotts
Last week, approximately 10,000 Newcastle supporters boycotted the 3-1 defeat to Tottenham Hotspur as part of the Ashley Out campaign. The club have declined to comment on the string of protests, something the group believe is 'typical' of the club whose relationship with its fans becomes more strained by the week.
"We have not requested a meeting with the club, but we have sent correspondence via email setting out our plans and have not received a response. Various media outlets have contacted the club, but they are unwilling to provide comment.
"This is probably the highest profile issue regarding NUFC and the lack of communication from the club is typical of a regime that does not care about Newcastle United and its supporters.
"Mike Ashley only cares about Sports Direct which is why Newcastle United is no longer a football club and operate only for the benefit of Sports Direct through free advertising to a global audience. "
Newcastle's defeat to Swansea was their seventh consecutive league loss.