Newcastle United manager Alan Pardew has reiterated his desire to re-sign former striker Andy Carroll. The England international transferred to Liverpool in January last year but has failed to cement a first team place at Anfield. The 23-year-old is now on a season-long loan at West Ham United and his Liverpool days seem to be over.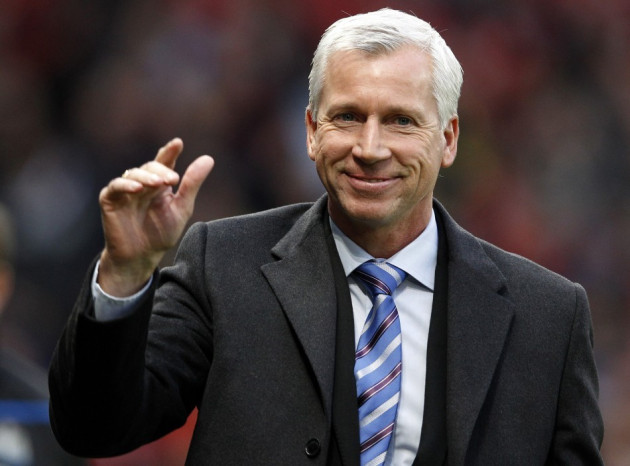 "He's a Liverpool player and not wanted so at some point he's going to move permanently. I'd like to think we'll be in the mix for that. Big Andy hopefully one day will want to come back and certainly I'd like to have them both in my squad now because we would be stronger for it. But obviously finances restrict me from doing that," Pardew explained, ahead of the Magpies' game against the Hammers at St James' Park.
Carroll made a big splash at Tyneside in the 2009/10 Championship season, scoring 17 times to guide the club to the Premier League. Once there, he did even better, scoring 11 times in 19 appearances. That earned him a £35m high-profile, deadline-day switch to Merseyside, where he has failed to live up to expectations. And while Pardew acknowledges the loss of Carroll was far from ideal, he also admits the money generated by the sale was critical in last season's run to fifth in the Premier League and qualification to European competition this season.
The money funded the acquisition (either in terms of transfer fees or for salaries) of the Senegalese strike pair of Papiss Cisse (from Freiburg for £8m) and Demba Ba (from West Ham), French international Yohan Cabaye (from Lille for £4.3m) and Italian right back Davide Santon from Inter Milan... and these new players were instrumental in the success the club enjoyed last season.
"The fee was astronomical, we have used it well. The position we are in, if I'm honest, is because we used the money from Andy's sale well. He was a brilliant player for us and we owe a great debt to him," the Magpies' boss said.
Newcastle host West Ham this weekend and the theme of reunions is a strong one. West Ham boss Sam Allardyce will also make a return to familiar territory; the former Bolton legend was in charge of Newcastle for just nine months in the 2007/08 season. Pardew's men are currently 10th in the league, with 14 points, and trail the Hammers by one point.